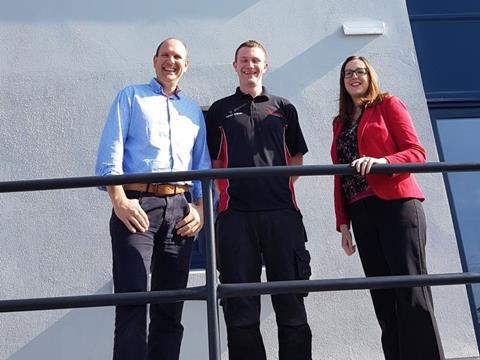 Needham Coding Ireland Limited to meet increasing demand for advanced coding and marking equipment and build further on Irish customer base.
In a move to meet increasing demands in Ireland and to build further on its existing Irish customer base within food, beverage and pharmaceutical markets, Needham Group, which comprises Needham Coding Limited and Needham Inks Limited, has merged with long-standing Irish distributor Advanced Coding Solutions (ACS) to create Needham Coding Ireland Limited.
Conveniently located in Mullingar in Co Westmeath, the team from ACS has moved across to the new business with Bob Powles continuing as Managing Director. Needham Coding Ireland Limited is set to expand its headcount locally with the appointment of technical salespeople and service engineers later in the year.
Aled Ellis, Managing Director at The Needham Group comments: "Ireland is seen as an important and fast-growing market for The Needham Group. Since 2004, we have been supplying quality inks and hardware to ACS, a company which has firmly established its place in the Irish market with Bob and his team sharing many of the same values as The Needham Group.
He continues: "We are confident that local food, beverage and pharmaceutical companies will quickly recognise the major service and cost benefits offered by the expanded expertise in the supply, installation and support of high performance coding and marking equipment.
"Apart from significantly strengthening and underpinning our presence in the Irish market, the investment in Needham Coding Ireland Limited underlines our commitment to providing existing and new Irish customers with the highest possible levels of efficiencies in terms of service and after-market activities," Aled concludes.
Bob Powles comments: "Having an ink manufacturer at the centre of our Group puts us in a truly unique position. For the last 20 years, we have been manufacturing inks for all brands of continuous ink jet equipment which is exported on a worldwide basis. It is excellent news for our Irish customers who will have a genuine alternative to their current suppliers. We have sourced the best suppliers from around the world for spare parts for all brands of printers which along with our expertise completes the service offering.
Bob adds: As part of The Needham Group, we now have one of the widest ranges of coding and marking equipment in Ireland which sets us apart from the competition. It allows us to save customers time and money, as well as offer a stronger 'go-to' option for high quality, cost effective solutions.
"With the backing of The Needham Group's infrastructure and our new office and workshop facility, we are fully committed to growing our business by ensuring customers continue to receive the highest possible levels of service and support."
Needham Coding Ireland Limited offers an unrivalled range of coding and marking equipment, including the newly launched, own-brand Needham Coding 'N' series of small and large continuous ink jet printers, which comprises four models – N16, N16 Plus, N25 and N32. The N16 ink jet printer is designed for basic, entry level applications, while the advanced N32 is aimed at high speed applications printing up to five lines of text, barcode and graphics and offer 10,000 hour operation between service intervals.
Needham Coding Ireland Limited is also the exclusive distributor of Tykmar-Electrox and Macsa laser coders; large character printing and thermal transfer overprinters from Kortho; Anser thermal ink jet printers and dot preening from Marking Box.
Sister company, Needham Inks, provide a truly extensive range of quick to immediate dry inks to meet any marking and coding application. Globally acclaimed and used by many blue chip companies, Needham inks and fluids can be tailored to meet virtually every requirement.
More info: