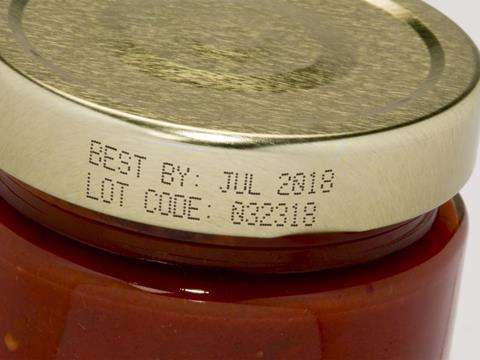 Specialist food grade, ultra-violet, heavy pigment & small character models ideal for global food, beverage, pharmaceutical, cosmetics, security & industrial applications.
Further underlining its position at the forefront of coding and marking technology, Sheffield-based Needham Coding Limited - part of The Needham Group - has expanded its 'N' series of own-brand continuous inkjet printers (CIJ). The company has added several exciting models for specialist global food grade, ultra-violet, heavy pigment and small character applications.
Needham Coding's new N32 FG is a food grade CIJ printer specially designed for harsh production environments and for use with food grade inks supplied by sister company, Needham Inks Limited. Compatible with FDA, EU and other compliant inks, the N32 FG is capable of printing directly onto food products, such as eggs, fruit and vegetables, or permeable packaging.
The N32 FG model is manufactured in a clean room environment and available with a diverse range of food grade inks supplied by sister company, Needham Inks Limited. This includes self-disinfecting ink formulations which enable food products to be printed directly with fast drying edible red or blue ink.
The N32 P is a heavy pigment industrial printer for operation with a range of heavy pigment inks available in various colours and specifications. It enables dark substrates to be printed with bright, high contrast yellow and white inks.
Ideal for the automotive, cable, electronics and extrusion industries in particular, the yellow pigment system prints with high contrast yellow pigment ink providing bright yellow, readable codes on dark surfaces. Unique micro-pigment formulation and ink circulation system provide uniform colourant dispersion without complex fluid or stirring mechanisms.
The N32 UV CIJ printer has been developed to meet the demands of hidden security and traceability applications. It prints invisible codes which are only made visible when exposed to UV light. The clear, UV readable and fast drying ink offers excellent adhesion on most surfaces, is alcohol resistant and steam sterilisable, making it ideal for security coding, cosmetics and pharmaceuticals.
Needham Coding's N32 M is a small character inkjet print which accurately and reliably prints from 0.6mm up to 10mm image heights. It operates at speeds up to 400 metres per minute and features an IP65 rated enclosure making it suitable for high pressure washdown.
Needham Group comprises Needham Coding Limited, Needham Coding Ireland Limited, Needham Coding Distribution Limited and Needham Inks Limited.
More info: