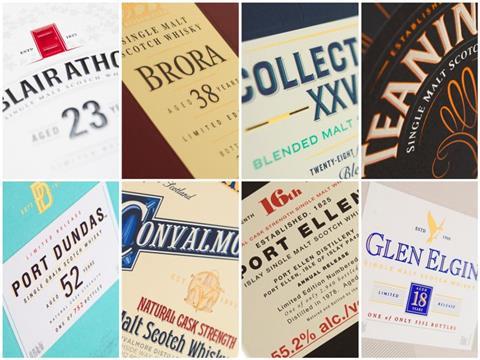 For the fifth year running, MW Luxury Packaging have manufactured packs for Diageo's Special Release Single Malt Whiskies.
This year, a total of ten whiskies were selected, eight of which were handed over to the MW team for the production of the packaging, including a classic re-release from a closed distillery, an exciting new single malt from an up-and-comer, and a unique blend, crafted from the single malts of 28 different Diageo distilleries.
In taking on this project, the MW team were aware of the specific challenges it posed. Not only are many of these whiskies exceedingly rare and expensive (thus requiring the most protective packaging), they're also known for their distinctive branding, which must be carried through in the manufacturing stage. Each pack has its own unique demands
The MW team are now showing off their eight-pack collection. The oldest whisky on the list is the rare, 52-year-old Port Dundas, which has been housed in a pale aqua blue box, fronted with an illustration of the now-closed distillery. The pack boasts a gold foil monogram, hand-placed labels, and a vacuum formed bottle fitment with an EVA base, colour-matched with the exterior.
On the younger end of the spectrum is the 17-year-old Teaninich, which has been released 200 years on from the opening of the distillery where it was brought to life. To achieve a soft, inky finish, the pack was wrapped in white core paper printed with multiple hits of black. Copper foiling was layered on top, and photo-luminescent UV inks utilised in the logo and other areas of detailing to make them visible in the dark.
The most unique Special Release that MW packaged was the Collectivum XXVIII, a blend of single malts taken from Diageo's 28 operational distilleries. Housed in a midnight blue shoe box structure, this pack is embellished with gold foil Roman numerals, which correspond to the names of the distilleries on the inside of the lid, marking out their locations.
The MW team were pleased to see the return of two past favourites, Port Ellen and Brora, having manufactured the packs for these whiskies in the past. In keeping with the timeless, luxury appeal of these sought-after whiskies, both packs were constructed in a traditional shoe box shape, and feature inner fitments lined with velvet. Subtle embellishments were incorporated in the form of spot UV branding (Port Ellen) and pin-line embossed paper (Brora).
Even more exciting embellishments and detailing can be found on MW's three remaining packs for the Blair Athol 1993, Convalmore 1984, and Glen Elgin 1998 – with the bespoke metallic blue lining of the latter a particular highlight.
More info: