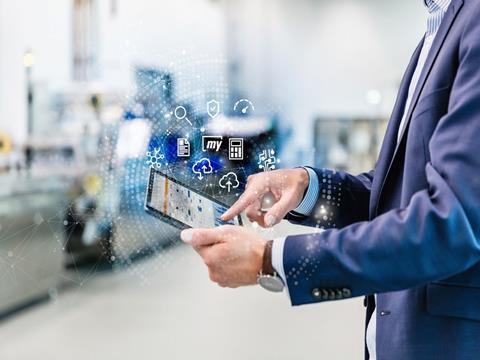 In the latest edition of our Innovation Spotlight, MULTIVAC introduces its Smart Services, which offer transparent processes and data processing in real-time to make an important contribution to the efficiency and cost-effectiveness of systems and lines.
With MULTIVAC's digital products and services, they offer their customers innovative solutions for monitoring, controlling, and optimizing production - even networked across all locations to facilitate comparison. Simple, convenient, and "live". For new equipment as well as retrofitting to existing machines.
The use of MULTIVAC Smart Services does not require a large start-up investment, since the modular range of digital wizards allows them to be tailored flexibly to the MULTIVAC machine or appropriate line components. This means the customers benefit equally in all operational and strategic areas, from machine operator to factory manager.
An overview of MULTIVACs Smart Services:
Smart Production Dashboard - Control Center for digital machines
From the user's point of view, the control center of a digitalized machine is the dashboard, which can be run on a large flatscreen beside the machine or a PC. This means the operator at the machine and the company management have "live" access to all the relevant information about the current performance. The benefit: significant reduction of communication channels and reaction times.
Smart OEE Analyzer - Strategic instrument for increasing efficiency
The Smart OEE Analyzer offers in various degrees a detailed analysis of a packaging machine's operating data within a period of up to four weeks. The software captures the percentage availability, pack quality and output of the machine, then multiplies these values and calculates the overall equipment effectiveness (OEE) of the packaging machine.
Smart Log Analyzer - Flexible tool for optimization
Using the Smart Log Analyzer, you can identify the main causes of your downtimes, as well as the most common faults and their average downtime immediately. The tool is aimed at users of the machine and service technicians. In the event of a fault, the important data is available immediately to the service technician for troubleshooting, allowing machine downtime to be reduced to a minimum.
Smart Machine Report - Quick and meaningful comparison
A high-end control tool for use by both the shift supervisor and the company management. The Smart Machine Report provides you with various comparisons of machines or shifts, details on recipes, and recipe changes immediately. They also enable the performance of the entire packaging process to be evaluated. The data is stored centrally and can be called up quickly and conveniently at any time from a PC or smartphone.
Smart Data Backup - Valuable data automatically backed up
Thanks to this smart tool, the settings on a MULTIVAC packaging machine are always backed up automatically in a protected online domain. Smart Data Backup runs smoothly in the background without adversely affecting your packaging process. It can be accessed very flexibly from anywhere via a browser. All the settings can be downloaded in this MULTIVAC Smart Service at any time and easily restored as required.
MULTIVAC Pack Pilot - Process optimisation in a new dimension
Thanks to MULTIVAC Pack Pilot, which is operated directly via the HMI 3, the packaging machine is already set to the optimum degree when production is started, allowing high-quality packs to be produced immediately, without any appreciable start-up loss of material. This leads to significant savings as regards product, packaging materials and production time. Pack Pilot also makes it easier and more reliable to change a machine over to another packaging material.
This content was sponsored by MULTIVAC.