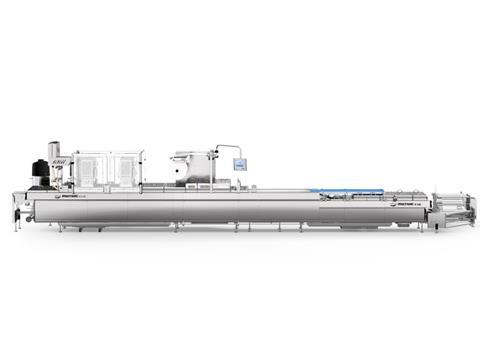 One of the highlights on the MULTIVAC stand (A020) in Hall 9.1 will be a slicer line for the automated slicing and packing of products such as cheese, ham and other sliced products.
Compared to conventional slicing solutions on the market, this line is characterised by its significantly reduced footprint. Following the takeover of the slicing division of VC999 in December 2017, MULTIVAC has systematically expanded its product range in the direction of "Better Processing", and it is now able to offer complete slicing and packaging lines from one source to cover all output categories.
The MULTIVAC solution will consist of a SL 800 slicer, a R 245 thermoforming packaging machine, a horizontal loader and a compact L 330 conveyor belt labeller. An H 130 handling module is used to load the packs into boxes.
The SL 800 slicer is equipped with fully automatic central loading and offers a high slicing speed of up to 800 slices per minute. The product infeed is carried out in a highly controlled and compression-free process using servo-driven product infeed units. The portioning system on the machine can perform virtually any portioning task - from precise placement of slices in shingled portions and straight or offset stacks, through to the shingling of wafer-thin cut product, and right up to the folding of individual slices. The servo-driven portioning system, which can be raised and lowered, ena-bles stacks up to 80 mm high to be produced, as well as tall shingled por-tions and large bulk packs of product.
The Horizontal Loader is designed to ensure that a wide range of sliced portions can be transferred very efficiently from the slicer to the cavities of the thermoformed packs. Thanks to the use of this hygienic loading system, which is very gentle on the products, it is not necessary to bridge any height differences between the slicer and the packaging machine, and this means that the length of the line is reduced significantly. The R 245 thermoform-ing packaging machine itself is characterised by its very high level of ma-chine efficiency, an equally efficient use of packaging materials and energy, and last but not least its small footprint. The proven MULTIVAC drawer sys-tem for the simple change of forming and sealing die parts, as well as hinged side frames and a film quick-change system enable this high-performance machine to be converted quickly to a wide range of pack for-mats, ensuring that it offers the maximum flexibility.
A L 330 conveyor belt labeller is used for labelling the packs of sliced products. This model is designed in the IP 69K protection class and meets even the highest hygiene requirements in food processing companies. The packs are transported by toothed belt guides at the sides, so that they are easily accessible for visual inspection.The line is equipped with an H 130 handling module for loading packs in-to boxes. This compact module has a highly flexible 4-axis delta kinematic solution, which is suitable for a wide range of applications and enables loading patterns to be changed without conversion of the hardware.
The perfectly coordinated line components can be controlled very easily and with great process reliability via the open IPC control and user-friendly HMI 2.0 of the packaging machine.
More info: