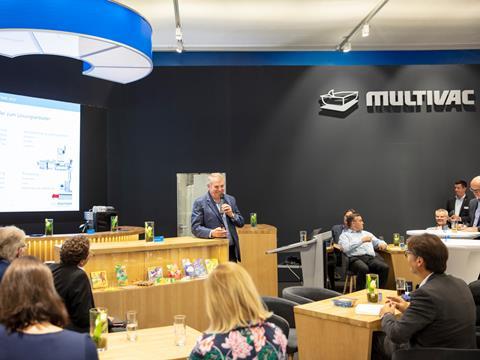 Yesterday, as part of a press conference at FachPack, Hans-Joachim Boekstegers, Director and CEO of MULTIVAC, gave an overview of the current development of the business, as well as the packaging trends at MULTIVAC and just some of the company's many product innovations on the exhibition stand.
With a turnover of around 1.1 billion euros, the MULTIVAC Group was able to achieve in 2018 a growth in turnover of 7.7 percent over the previous year. The number of employees increased to 6,400 worldwide. "Despite many economic and political uncertainties, we are expecting a slight growth in turnover for the current business year," explained Hans-Joachim Boekstegers.
Investment in the worldwide production network
The continued expansion of production capacity has a high priority in the future as well. A new Center of Excellence for slicers and automation solutions is currently being built at the company's headquarters in Wolfertschwenden, and this is due for completion in 2020. Its floor space of approx. 17,000 square metres will also create 180 high-quality office workstations, as well as conference and function rooms, which will be capable of being used very flexibly. As regards the MULTIVAC subsidiary TVI, production and administration facilities will be concentrated on a greenfield site of around 9,000 square metres at the Bruckmühl site. A new Center of Excellence for meat portioning machines is also currently being built there, and this will similarly be put into operation in 2020. The highlight of this is an Application Center, which is specifically designed for the needs of customers. MULTIVAC is also currently planning to manufacture packaging machines and peripheral components in Taicang (China). In addition to manufacturing, the facility will also have development and design departments. The start of production is planned for the end of 2019.
From machine manufacturer to supplier of complete solutions
With the takeover of the FRITSCH Group in August 2019, MULTIVAC is complementing its range of solutions, so that in future it will also be able to offer complete production lines from one source to the bakery industry as well. FRITSCH is a leading manufacturer of bakery equipment with its headquarters in the town of Markt Einersheim in Lower Franconia. The product range consists of high-performance equipment and groundbreaking technology for dough forming and processing - from tabletop units to industrial-scale systems. "This acquisition is another important step in expanding our range of integrated solutions for processing and packaging food products," explained Hans-Joachim Boekstegers. "It is our aspiration to always be able to offer our customers the most efficient total solution."
MULTIVAC's sustainability concept
"When it comes to sustainable packaging solutions, we are the partner of choice," said Hans-Joachim Boekstegers. "We are raising the awareness of sustainable packaging concepts among our customers worldwide. We are now multiplying our sustainable concepts worldwide, even in those regions, where we have not yet seen an active demand for these solutions." The MULTIVAC product portfolio includes a wide range of sustainable packaging concepts, which make a significant contribution to reducing the packaging material used to produce packs. Other concepts are based on the use of renewable raw materials or fully recyclable films such as for example mono plastics, or alternatively paper fibre-based packaging materials.
X-line machine generation
Digitalisation is a fundamental component for MULTIVAC in the development of new products, and it is therefore systematically incorporated into all packaging solutions. "Now that our RX 4.0 thermoforming packaging machine has set a new benchmark in the market, we have expanded our range in the X-line machine generation with the addition of another future-proofed model," explained Hans-Joachim Boekstegers. "The features of the new TX 710 traysealer are a robust machine concept and an intelligent control system. These ensure that the maximum output, reliability and flexibility are achieved." At FachPack the TX 710 was given the "German Packaging Award" in the packaging machine sector by the German Packaging Institute (Deutsches Verpackungsinstitut e.V.).
New generation of cross web labellers
A new generation of cross web labellers is also being presented by MULTIVAC at the trade fair. In addition to improved performance and operating reliability, one of the features of the new models compared to the previous labelling solutions are their lower life cycle costs. The use of state-of-the-art communication standards such as IO-link and EtherCAT ensures they are equipped for the future. This enables additional sensor systems for example to be used, such as those for labelling inspection or predictive maintenance.
Full wrap labelling offers a wide range of design options
The trade fair highlights also include a labelling solution for the D labelling of packs, which is marketed under the name "Full wrap labelling". As with a banderole or sleeve, the label is completely wrapped around the pack, and this offers many possibilities for different types of pack design, as well as increasing the attractiveness of the packs at the point of sale.
Management change at MULTIVAC
After more than 18 years as CEO of the MULTIVAC Group, Hans-Joachim Boekstegers will hand over the business on 1 January 2020 to his director colleagues, Christian Traumann and Guido Spix, and bow out of the company. Hans-Joachim Boekstegers joined the MULTIVAC Group as CEO in April 2001 and has since played a determining role in driving forward the successful development of the company. He was responsible in particular for the systematic expansion of the product portfolio and MULTIVAC's sales and service network. "I would like to give my heartfelt thanks to all representatives of the media for their great interest in MULTIVAC and their professional and comprehensive reporting," said Hans-Joachim Boekstegers in summary.