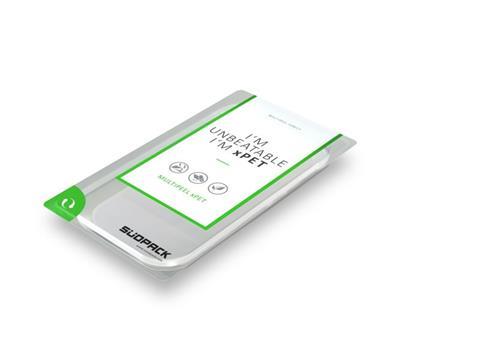 The Multipeel family from Südpack Verpackungen GmbH & Co KG has been setting standards in resealing films for 15 years. The product line now includes a variety of films for specific applications – from the Multipeel High Base sealing film to Multipeel Flow Wrap resealable tubular bags.
Since the end of 2016, Multipeel xPET completes the family. This crystal-clear top film can be securely sealed to all PET trays and films (CPET, APET) at temperatures starting at 145°C. An innovation in resealing films, it works perfectly with crystalline PET treated with anti-block or silicone. Multipeel xPET sets new standards when it comes to barrier properties and is available with or without high barrier.
Multipeel xPET adds a real all-rounder to the Südpack portfolio of resealing films. The new top film is an evolution of Multipeel for mono-APET. Unlike other standard solutions on the market, it ensures completely safe sealing on all kinds of trays and hard PET films – at an unusually low sealing temperature of 145°C. Even trays with crystalline PET resulting from reheating the material (for example after production line interruptions) are perfectly sealed with the newest Multipeel product. Multipeel xPET is also easy to use on trays or films treated with anti-block or silicone. "By combining all of these features, Multipeel xPET sets itself apart from the competition. And the fact that we supply it with or without high barrier is a key advantage for our clients," explains Südpack Managing Partner Carolin Grimbacher. "Multipeel xPET shows how we continuously develop our Multipeel films and create real innovations for the food market."
Multipeel xPET is ideal for cold meats and cheeses in thermoformed packaging, as well as for sealing Mono PET trays used for vegetables or snack products. Modified Atmosphere Packaging (MAP) is also possible with Multipeel xPET. In addition to the freshness of packaged products, consumers have come to appreciate some of the other features of the new film. These include easier opening and resealing of the package, which the new top film Multipeel xPET enables thanks to high material rigidity with reduced thickness. Multipeel xPET also ensures a crystal-clear view of the product inside. Customers have practically unlimited choices when it comes to labeling the new film: Multipeel xPET can be printed using digital, flexographic or gravure processes. In addition to Multipeel xPET, the film is available in a peel version with the same unbeatable sealing properties. Peel xPET lies flat and is extremely to open without aids.
Zero sealing defects and sustainability advantagesMultipeel xPET can be processed on thermoforming lines or with tray sealers. Its special properties ensure reliable production without sealing defects. When it comes to sustainability, the versatile film stands for clear progress. Without compromising product protection, the film is thinner than the previous version and requires fewer resources. Sealing on PET eliminates the PE sealing layer on the base film ¬– and saves resources. This also offers important benefits in terms of storage and logistics. Minimizing material consumption means less storage space required for materials and fewer roll changes in production. The weight of the product packaging is also reduced.
xPET is also available as Peel xPET without reclosure. The easily peelable film convinces wins over producers of food and technical products with the same technical attributes as its reclosable counterpart. It is suitable for application in the same industries as Multipeel xPET. Additionally, Peel xPET can be used in combination with snap lids and for products whose packaging does not need to be reclosed such as razors or other sanitary products.
Multipeel series expandedAll films in the Multipeel family offer optimum product protection with minimum consumption of resources. "Over the past few years, we have worked to continuously improve the performance of our Multipeel films. Today, our portfolio includes special taste-neutral films for sensitive cheeses and we have managed to further reduce film thickness," explains Carolin Grimbacher. The Multipeel family includes a wide range of resealing films used in many different product segments.
An important focus of the company's R&D work is on improving convenience for consumers. While Multipeel is appreciated by consumers for its easy-opening qualities, Multipeel High is extremely robust with increased tear strength and sturdier resealing. Multipeel Flow Wrap resealable bags without clips or labels attract attention on supermarket shelves. They are also ideal as resealable packaging for snacks consumed away from home.
More info: