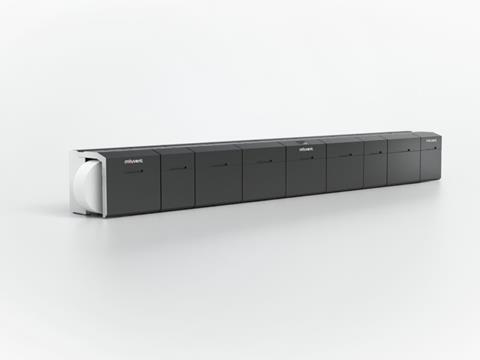 Mouvent – a new joint venture from BOBST and Radex, focused on inventing and delivering the future of digital printing – has revealed its new range of highly innovative digital label printers at Labelexpo 2017 in Brussels.
Mouvent revealed three label printers, which can all print up to 7 colors on a large variety on substrates – paper, self-adhesive and wet-glue labelstock and flexible materials – at production speeds of up to 100 m/min with a native resolution of 1200x1200 and optical 2000 dpi. Central to the digital innovation of these machines is the MouventTM Cluster, an ingenious digital printing technology based on a highly integrated cluster, which represents a quantum leap for the industry.
The new printers are:
• The LB701-UV mini label press, the smallest high-productivity label press on the market. It is extremely compact and ergonomic, with a very low TCO (total cost of ownership), which means even the smallest print shops can take on high quality and highly flexible label production.
• The LB702-UV label press, the most productive digital label press in the narrow web segment, allowing fast and easy industrial label production at an incredible TCO. Variable data printing (VDP) enables label personalization and serialization. It also has a very compact footprint.
• The LB702-WB label press, a game-changer in digital label production, using only 100% water-based Mouvent™ Inks, making it 100% free of VOCs (volatile organic compounds) and 100% food safe. This represents a real paradigm shift in high-volume label production. With the LB702-WB, it is now possible to produce long lasting, high-quality, eye catching labels, using an environmentally-friendly printing method, all at a very economical cost.
The LB702-UV and LB702-WB will go to their beta sites for final pre-market testing in the coming weeks after the show."We are so excited to be able to share these machines with everyone at Labelexpo," said Simon Rothen, CEO of Mouvent. "We believe we are at the start of something very special. Each one of these three machines represents a leap forward in its range, and together, they will take digital label printing to a whole new level. We look forward to bringing these to market as soon as we can so that people can benefit from this innovative technology."
As well as the digital printing presses, Mouvent offers a fully integrated, complete solution – it develops, engineers, tests, and industrializes digital printers based on the MouventTM Cluster, it writes the software around the printers, develops inks – including the water-based inks for the LB702-WB – and coatings for various substrates, as well as providing a full servicing offering. The company is promising a new standard in inkjet label production cost and quality, in ink pricing, head durability, quality and machine performance.
The innovative cluster design is the base building block for all systems, current and in development. "Our radical new approach, central to all the machines here at Labelexpo and all others in our pipeline, is to use a base cluster which is arranged in a modular, scalable matrix instead of having different print bars for different applications and different print width," explains Piero Pierantozzi, Co-Founder of Mouvent. "The Mouvent Cluster is the key technology behind the Mouvent machines, resulting in high optical resolution for a crisp, colorful, very high printing quality, as well as a never-seen-before flexibility and possibilities in terms of machine development. Simplicity is our engineering philosophy."
The MouventTM Cluster will be the centerpiece of the ingenious machines developed by Mouvent for a wide variety of other markets beyond labels, such as textile, corrugated board, flexible packaging, folding carton and more.
Mouvent is a joint venture from BOBST – one of the world's leading suppliers of equipment and services to packaging and label manufacturers, and Radex – a startup company owned by multiple stakeholders with a long track record in the field of DOD inkjet digital printing, and is the digital printing competence center and solutions provider of BOBST. Mouvent is comprised of about 80 employees in Switzerland.
"We believe that Mouvent brings a breath of fresh air for the digital printing industry," said Martin van Waeyenberge, Sales & Marketing Manager at Mouvent AG. "We are starting to conduct live machine demonstrations of our label printer range and the reaction so far has been fantastic. We know we are answering genuine unmet needs in the industry, providing highly innovative and reliable industrial digital printing machines at a competitive cost."
The Mouvent Team welcomes you to visit their stand A60 Hall 3 during Labelexpo 2017 for the launch of the new digital printing presses for the label industry.
More info: