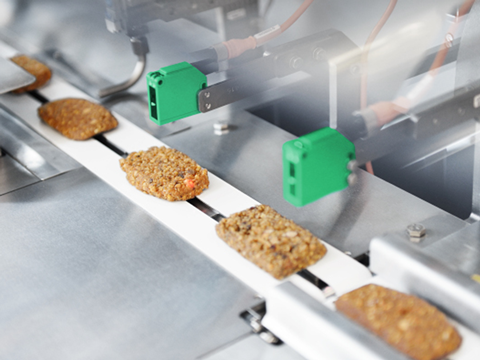 For decades, bars have been a permanent fixture in the worldwide snack market. From sweet to savory, they cover a wide range of textures and flavors. But increasingly health-conscious consumers are reshaping that market for good: instead of seeking a mere moment of sweet indulgence, consumers are on the lookout for novel products with nutritional benefits.
In this article, machinery specialist Syntegon Technology argues that bar producers must adapt to secure long-term economic success, and that adjusting their portfolios and production equipment are two major steps towards this goal.
---
The food industry is highly fragmented, and yet, there is one common trait that unites its many sectors: Healthier products have been on the rise for several years. Whether it is vitamins, bio-active or all-natural ingredients, an increasing share of consumers expects more from a snack than just a quick rush of energy.
In fact, functional products that support the healthy functioning of the body are especially popular among consumers. "From baked goods to confectionery and convenience food, there is hardly a branch that has not reacted to consumer demand for healthy products with added nutritional value," says Stephan Schuele, Global Product Manager at Syntegon Technology. "In particular, health bar manufacturers keep expanding their portfolios, paying tribute to a trend that is unlikely to lose momentum soon."
Stable bar growth
According to Euromonitor International, the COVID-19 pandemic exacerbated this health trend, as a larger share of consumers starts to focus on self-care and opt for products with corresponding claims. At the same time, the pandemic, while triggering a surge in the purchase of staple foods, has also led consumers to purchase items with a long shelf life, like cereals, snack bars, baking flours, and soups. The international bar market thus records stable sales, and is projected to grow at a CAGR of 4.24% between 2021 and 2026.
In order to address the high demand and seize emerging business opportunities, the bar industry is busy expanding its healthy portfolio. Nut bars are believed to increase focus, while products with trace elements such as iron, iodine and folic acid have been developed especially for nursing mothers.
Protein bars, on the other hand, speak to athletes and older generations who are eager to build, respectively maintain muscle. The latest health bars hence differ from their standard chocolate counterparts in more than one respect.
As a consequence, they heavily impact manufacturing and packaging processes: due to the use of natural ingredients, such as cereals, nuts or honey, the texture and structure of the individual bars poses considerable challenges:
Since the bars are often sticky and not very stable, manufacturers need process and packaging technology that allows for gentle feeding and handling.
Natural bars with little or no preservatives also spoil more easily. Packaging must therefore protect the healthy alternatives even better than conventional products.
Overall production flexibility is another key requirement. In the wake of the health bar surge, manufacturers must be able to run several products on one packaging line.
Despite the challenges, this market segment offers good business opportunities and bar manufacturers are eager to provide products that do not compromise on taste, consistency, appearance or shelf life. A demanding task, since expanding their product ranges or changing product recipes has a significant impact on production, handling and packaging.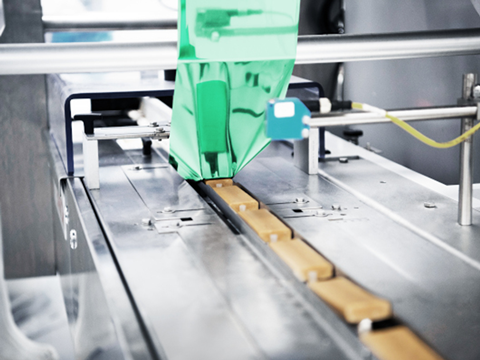 Handled with care
Health bars in general call for gentle product handling throughout the entire process. They usually lack stability and are often sticky. Syntegon Technology fully understands market requirements, offering complete bar systems for efficient handling and packaging. For primary packaging, for instance, the Sigpack FIT is an efficient and advanced gentle product infeed solution.
The use of linear motor technology allows it to feed bars fast and without contact between individual products to the flow wrapping machine. This way, even sticky and fragile items can be handled gently, ensuring a constant product flow. It is important that the bars are subjected to hardly any mechanical pressure throughout the entire process – this prevents product breakage, resulting in fewer rejects, less product residue in the equipment and consistently shaped, appealing products.
Safe and tightly-packed
When it comes to packaging, tight solutions are paramount – especially if the natural bars contain few preservatives. Particularly tight packaging protects the products from oxidation and therefore has a positive effect on shelf life. Different sealing technologies ensure a fresh and securely packaged product with the longest possible shelf life.
"Besides reacting to the health trend, bar manufacturers are seeking ways to enhance packaging sustainability," Schuele adds. "Paper plays a major role in this regard, and we have the packaging technology that allows to process and seal this trending material." The flow-wrapped bars are then carefully packed into carton boxes and finally into transport cases.
As part of a seamless bar packaging system, Syntegon's Sigpack TTM cartoners equipped with matching Sigpack PFI infeed modules cover these crucial process steps. "Gentle product handling plays a major role during the entire packaging process. Our systems make sure it is maintained at all times," says Schuele.
Just like the Sigpack FIT, the intelligent Sigpack PFI feeding module for cartoning uses innovative linear motor technology. Thanks to this, every individual product can be turned in the correct position. The highly adaptive, vacuum-free Sigpack PFI transports bars gently at high speeds to the Sigpack TTM. The compact, integrated top-load cartoner forms, loads, and closes up to 150 cartons per minute.
Easy format changes and cleaning
"In today's bar manufacturing, production must be very flexible, with short changeover times combined with hygienic design to ensure compliance with international food safety standards," Schuele points out. Flexible packaging processes are best achieved in a fully automated setting. Contract manufacturers, for example, serve many different brands with taking care of production and packaging – in a highly flexible setup.
Often, a single line produces a variety of products in changing quantities: not only do healthy snacks contain different ingredients, but they also come in different sizes, flavors and are packaged in single to-go-packs, multipacks, or in variety packs.
"For manufacturers, smaller batches often require high flexibility, an aspect they should bear in mind when selecting their packaging system," Schuele states. Flexible packaging means fast format changeovers: manufacturers have to be able to alternate quickly between various products, formats and pack styles in primary and secondary packaging. The basis for this is quick and error-free changeover concepts for minimum downtime. With Syntegon's intelligent FIT feeding solution, change-over time can be reduced by 15 minutes compared to traditional chain infeeds.
Flexibility also presupposes a seamlessly integrated system, meaning that all the individual machines function as a continuous overall system. The operating platform on the HMI is the same for all machines, all interfaces have been harmonized and the machines communicate with each other. As a result, the system regulates itself independently and ensures a continuous product flow.
In a hypo-allergenic environment, flexibility comes in handy as well: easy, fast, and reliable cleaning processes help to comply with the highest hygienic standards. Especially with allergens such as gluten or milk, manufacturers must avoid cross-contamination. Fast processes such as tool-less removal of belts and other components support efficient cleaning.
Moreover, with a fully automated production line, the products do not need to be touched by production personnel at any stage. This is especially important for sensitive, sticky and allergen-free health bars, and has gained importance during the current pandemic. Reduced contact between operators and products can be considered a key measure to contain the spread of germs and viruses, while securing product safety.