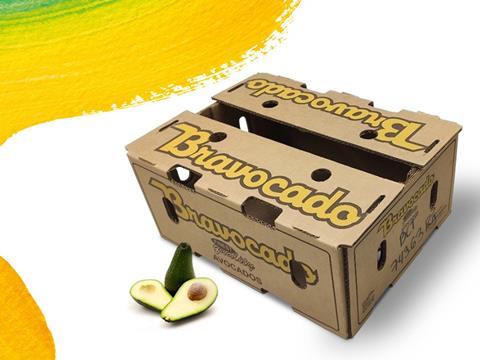 Mondi, a leading packaging and paper manufacturer, has partnered with Cartro, a provider of corrugated packaging in Mexico, on a new avocado box that they argue is "sustainable by design".
Fit-for-purpose packaging designs and paper grades are an important part of protecting fresh produce. According to the 2019 'State of Food and Agriculture' report from the UN's Food and Agriculture Organisation (FAO), approximately 14% of the world's food is lost between harvest and retail sale. Inadequate storage and transportation are among the main causes. To tackle the global problem of food waste, appropriate packaging for fruit and vegetables is essential.
Mondi argues that its portfolio of paper grades, "FirstClassFlutes by Mondi" and "ProVantage Kraftliner Aqua", meet these requirements and together, Mondi and Cartro say that they have developed a completely new corrugated box.
Mondi's paper grades reportedly offer high edge crush test (ECT) and box compression test (BCT) values, providing "excellent" strength in humid conditions, while at the same time apparently allowing for an 18% weight reduction. In addition to material savings, Cartro says that it is also able to save costs and run higher corrugator speeds, as the boxes do not need to be coated with paraffin. Mondi also reports that the new product is 100% recyclable.
Juan Javier Gonzalez, CEO at Cartro, says: "Our company is the biggest independent corrugator in Mexico and is known for reliability and quality. Thus, when we decided to enter a new market, we needed to be able to stick to our guiding principle of 'Quality On Time'. We wanted the new packaging to be a quality reference point, so we joined forces with Mondi to develop a lightweight corrugated box that can withstand the challenges of long haul transport in humid environments."
Markus Gärtner, CEO Corrugated Packaging at Mondi said: "At Mondi, we have developed a customer-centric approach called EcoSolutions, which helps us to deliver the right sustainable packaging solutions for our customers. We partner with our customers to help them achieve their sustainability goals with solutions that are fit for purpose and sustainable by design."