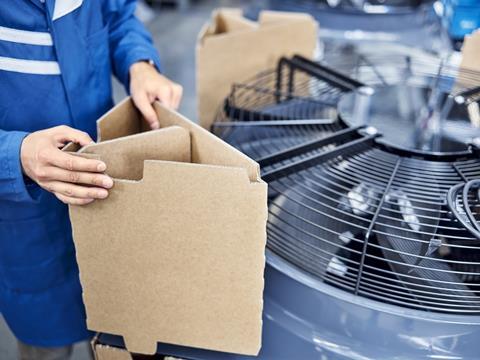 The global demand for corrugated board packaging is expected to grow to 269 billion USD by 2021 as manufacturers increasingly rely on it for the reliable and safe delivery of heavy duty products.
Mondi Wellpappe Ansbach, a specialist in heavy duty and industrial packaging applications, has recently developed a new solution for ventilation packaging in particular, which just won the German Packaging Award 2017 in the "economic efficiency" category.
Designing smart packaging solutions from corrugated material for industrial applications is particularly challenging – items are bulky and heavy, and the requirements for logistics and transportation are complex. While a number of packaging solutions offer effective product protection, there is certainly still room for improvement for other performance parameters, such as transport volume or ease and costs of disposal. For precisely this reason, ebm-papst Mulfingen, the global leader in air and drive technology innovations, approached Mondi Wellpappe Ansbach to look into the optimisation potential of their two-piece stacking corner solution for packaging axial flow fans, with a focus on improved material efficiency and handling. An additional assignment was to ensure compliance with the top load requirements for international truck and container shipping.
When transporting industrial ventilation systems, up to six pieces are stacked and stretch wrapped for shipping. In order to achieve better handling efficiency and material usage, the new stacking corners are made from only one piece of cardboard. As a result, the customer achieved a 30% reduction in material usage: 1.2 square metres of cardboard can be saved per fan. On top of that, the new corners take 48% less time to assemble compared to the previous solution, which guarantees ebm-papst Mulfingen time-savings of 17 hours per 1000 packaged fans. Mondi Wellpappe Ansbach performed thorough stress tests at their in-house laboratory to ensure the required top load values were met from the get-go.
Helmut Breuer, Managing Director at Mondi Wellpappe Ansbach, noted, "by paying careful attention to our customer's needs, we made sure the new solution would be a perfect fit - right from the start. We carried out a thorough pilot testing phase in close cooperation with ebm-papst Mulfingen to verify that the one-piece solution prototypes met their production line and transport requirements. No changes to the prototypes were necessary and the benefits of the new solution were apparent immediately. In the end, we managed to meet our client's expectations and, ultimately, turned their challenge into a new concept with added value - in keeping with our mission to never stop improving."
More info: