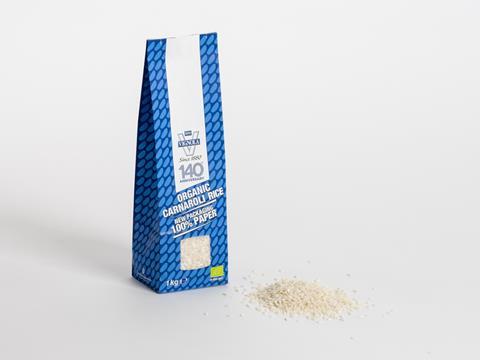 In partnership with Italian rice producer Riseria Vignola Giovanni, Mondi and Fiorini International, an Italian packaging converter, say they have developed Italy's first 100% recyclable paper rice bag.
The new rice bag will support Vignola's aim of reducing its use of plastic packaging, as it is made of Mondi's Advantage Smooth White Strong 100 gsm, a speciality kraft paper. Mondi reports that the solution is 100% recyclable and suitable for waste paper recycling streams, even in countries with the highest recycling requirements.
Giovanni Vignola, managing director of Vignola, says: "Our fifth-generation family company has long been an innovator in Italy. In 1971, we were one of the first to pack rice in cardboard boxes, and in the 1980s we were among the first to adopt the vacuum packaging system.
"Now we are pleased to be leading the market once again with this fully recyclable paper rice bag for our 500g and one-kilo packages, giving consumers the sustainable, recyclable packaging they increasingly prefer."
Pietro Fiorini, sales director of Fiorini International, adds: "The Rice Bag for Vignola is our second successful collaboration with Mondi in the past two years. Having partnered with Mondi to develop a fully recyclable paper bag with a window for an Italian pasta company last year, we did not hesitate to recommend Mondi to Vignola.
"Mondi has the expertise and capability to work with us on sustainable packaging solutions that meet food industry guidelines for freshness and shelf life and are also user-friendly."
Italy is Europe's top producer and exporter of rice, producing around 1.5 million tonnes per year, which represents more than 30% of total European rice production.