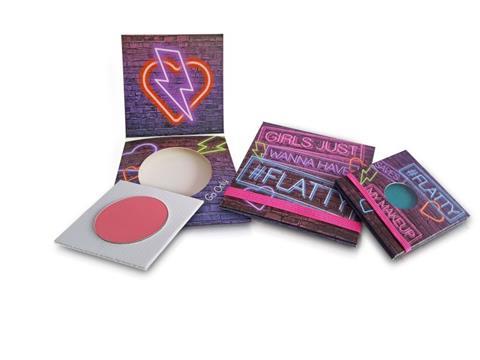 Mktg Industry launches "Flatty with Rubber Band Closure", a pack which the company describes as the smallest reusable paper container for makeup powders that is customizable up to the ribbon.
It is an innovative and updated version of Mktg Industry's traditional "Flatty" that is designed to be extra thin to make it ideal for on-the-go application.
The new "Flatty" is an eco-friendly solution made from cardboard and paper. The inner tray is specifically designed to hold the powder's metal pan without gluing it, allowing to exchange powders and/or to dispose the finished product in the correct recycling chain. The new closing system made with a rubber band allows to reuse the pack, thus reducing waste. The "Flatty with Rubber Band Closure" can contain every day a different color makeup powder according to consumers' needs and mood. A funny and playful makeup case with innovative closure that allows to use the packaging more and more times!
"Flatty with Rubber Band Closure", awarded IT product at Makeup In Paris 2019, is a packaging solution completely customizable in any sizes and window' shapes and highly decorable: it can be customized with special papers and decorated with four colour printing, hot stamping or embossing/debossing. The colour and the thickness of the rubber band can be chosen from a wide range of available options.