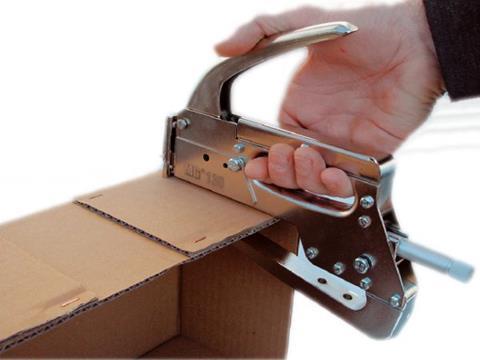 Mezger is showcasing its machinery portfolio, including a top stapler, stapling plier and stitching heads at interpack.
TOP Stapler:For sealing corrugated cardboard folding boxes as well as overlapping flaps with blind stapling without possible damage to the cardboard.Suitable for single or double corrugated cardboard. With MEZGER blind stapling, there are no additional stitch holes in the cardboard next to the staple.
Stapling Plier 130:Universal stapler for stapling cardboard blanks, telescope-type boxes, carton trays, slide lids etc. Suitable for solid, single and double corrugated cardboard. The binding is particularly stable, as the sides of the staples pass each other on the reverse side of the cardboard. Three different staple sizes can be used without adjustment.
Stitching heads:MEZGER stitching heads can be integrated into your fully automatic application, adjusted to your purpose. Here, up to 5,000 staples can be processed with the help of a stitching head without the need for reloading. Whether you are interested in a stitching head or even a complete machine solution, we will be happy to assist you.
MEZGER was founded in 1920 and is one of the leading manufacturers of staplers and stitching machines based in Germany. In addition to box sealing, the MEZGER joining technology using staples is applied to the most diverse materials. Customers include well-known companies in many branches and industries, such as the automotive and general engineering industries. The company's range stretches from simple handheld staplers to fully automatic stitching machines.
Mezger at interpack: Booth 12C48
More info:www.signode.com