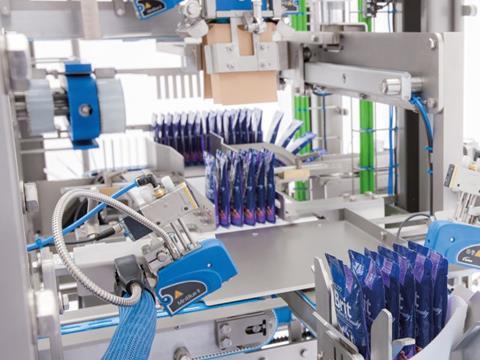 Processing small formations of small products within a small space – this trio of requirements is now met by the VP 600 case packer from Meypack.
This machine manufacturer, specialised in customised end-packaging machines, addresses the prevailing market requirements of the food industry with this innovation. In addition, the VP 600 stands out with its fast format changeovers and hygienic design in a stainless steel execution.
The food industry has to meet the increasing demand for small packaging units. At the same time, the space in production facilities is often limited. With this in mind, Meypack designed the new VP 600 case packer for small, sensitive products in small formations. Thanks to its extremely compact footprint, it can be integrated into every production facility.
The continuously operating VP 600 is ideally suited for sophisticated products such as soft packages / pouches, yoghurt cups or aluminium cups. In a further developmental stage, mini-bottles (glass and PET), small cans and jars shall also be efficiently and gently packed. The range of formats stretches from 70 x 50 x 80 mm up to 200 x 150 x 200 mm (WxLxH) and in the standard execution, the products can be packed in trays, high board trays or display trays. All of the variations can also be produced with an inserted lid. In a model variation with a larger machine footprint, the system will soon also be able to process wrap-around cases, shoulder trays and trays with an external lid. The packaging dimensions will then be increased correspondingly.
Few format parts, high hygienic standardsA very small number of finely tuned format parts enable fast and reproducible format changeovers that can be carried out without any tools. A high degree of accessibility is made possible by low-maintenance linear bearings and guiding elements (no central lubrication necessary) and self-cleaning vacuum valves. The high hygienic standards demanded during food processing in the end-packaging area have been met completely. A design with sloped surfaces allows liquid to run off while the open design enables optimal accessibility without hidden corners or empty spaces. The Meypack engineers made a conscious decision not to use chains in the machine.
The product infeed of the VP 600, which was on display at the interpack 2017, is carried out via a paddle chain with interchangeable belts that have product-specific pockets and paddles and are able to stack and erect products. With a fast changeover function, the belts can be exchanged immediately and then automatically adjusted for tension and positioning. The infeed variation "mass flow principle" will be refined in a further developmental stage. The blank magazines, which can be adjusted in height, are easily loaded and can be equipped with saw-tooth belts for the tray transport. This prevents the creation of too much pressure at the blank pickup.
A further development of the VP 600 prototype exhibited at the interpack fair will be on display at stand 325 in hall A6 at the drinktec trade fair in Munich from September 11th - 15th, 2017.
More info: