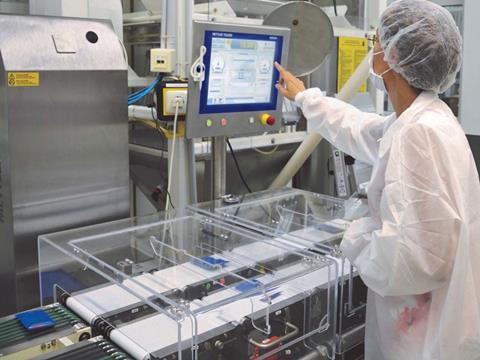 The theme for Mettler-Toledo at PPMA this year is product integrity. The company will be showcasing the latest product inspection and industrial weighing solutions available for ensuring quality and conformity in industries such as food and pharma.
Showing for the first time at PPMA is the C35 dual lane checkweigher. In addition to ensuring compliance with weights & measures, the C35 contributes to product integrity by preventing over- or underfill. Its ability to check two lines at once in real time makes the C35 a real boon in busy, automated production environments. This checkweigher also offers maximum flexibility, with around 250 options for performance optimization and smooth product transport.
Accompanying the C35 is the X34 x-ray inspection system – a cost-effective option where physical contamination from multiple sources is a potential risk. Introduced at PPMA last year, the X34 is now available with a smaller footprint: enabling food manufacturers to optimise production space without compromising on product integrity. The X34 comes with advanced software that enables automated product set-up, dramatically decreasing the chance of human error and the number of false rejects. It also automatically ensures that power and contrast levels are optimized for every product, resulting in enhanced detection performance.
In addition to being contaminant free and consistently portioned, accurate labelling and perfect packaging are key aspects of product integrity. The V35 Round Line is a compact, turnkey vision inspection solution for round, non-oriented containers that will fit on crowded production lines. The V35 performs 360° checks of label quality, text, or other graphic identification. It also verifies 1D and 2D barcodes, alpha-numeric text presence and print quality on the label.
Alongside this will be the latest in metal detection technology for free flow, packaged and conveyor applications, including the latest Auto Test System which helps to support product integrity, improve efficiency and contributes to overall equipment effectiveness (OEE).
Completing the product inspection display will be Mettler-Toledo's ProdX data management software tool. Visit Stand H80 to find out how this solution accurately maintains production record keeping, crucial for not only quality control, but also for reducing audit burden.
Also on show will be the latest industrial weighing solutions from Mettler-Toledo. These include the new Portion Control Station which features an ICS colorWeight® terminal, designed to boost productivity and improve accuracy in portioning applications. Debuting this year is the new cutting-edge Wireless Floor Scale with remote indicator utilising Bluetooth connectivity. Alongside these will be a range of weighing software, SmartShelf solutions, bench scales and weigh modules.