Whichever way you look at it, the postponement of this year's interpack to 2021 has been unprecedented for the packaging industry. However, in the spirit of innovation, companies from across the value chain still forged forwards to introduce new solutions around the time that the event was originally scheduled to take place.
Here at Packaging Europe, we aimed to support the industry by adapting from the physical to digital, a model which seems to have been tentatively adopted across the industry: innovations and announcements we would usually be discovering at events have been launched instead by way of virtual events, webinars, and digital launches.
Our Live Week was designed to fill the void and severe information gap left by the postponement of interpack, which was set to be this year's focal point for announcements, product launches, and discussions around packaging innovation. If you have yet to watch our comprehensive broadcasts, with frank discussions between expert guests on wide-ranging topics such as sustainable materials, innovation & COVID-19, all whilst brimming with innovations and announcements which were initially scheduled to be shared on the interpack floor, then head to our Youtube channel.
Building on the success of our inaugural Live Week and the fantastic audience engagement in our May broadcasts, we'll be back to share more essential discussion of key packaging challenges. Subscribe to our YouTube channel to ensure you don't miss these and future live broadcasts.
In the meantime, Fin Slater unpacks some of the key innovations that have been recently announced by companies in the machinery sector.
---
Domino Gx-Series
Printing, marking and coding specialist Domino is set to launch a new range of high-quality thermal inkjet (TIJ) printers optimised for fast, efficient, and accurate coding, on product labels, flexible films, and cartons.
The company says that its next-generation printers are compatible with all languages, and suitable for use across industries including pharmaceuticals, electronics, and food and beverage, with customisable options available to suit individual production needs.
In the words of Alexandros Mountis, TIJ product manager at Domino: "The Gx-Series has been designed with this level of agility and ease of use in mind – to help manufacturers to keep pace with the pressures of a modern marketplace."
ABB IRB 390 FlexPacker
ABB claims that its new robotic picking and packing portfolio can support customized packaging, vertical packing and high-speed, high-variation sorting and on-demand order picking in logistics and e-commerce fulfilment centres.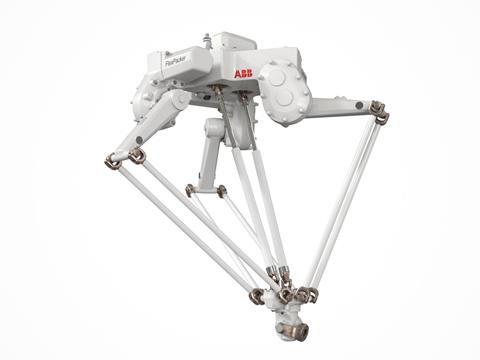 Designed for customers in the food and beverage, logistics, pharmaceutical, and consumer packaged goods industries, ABB says that the IRB 390 is ideal for secondary packaging and higher payload applications, with the speed and flexibility to support shelf-ready packaging and retail-ready packaging.
Romaco Noack Unity 600
One of the highlights of Romaco's virtual interpack event was the unveiling of the company's new premium blister packaging line. The machinery specialist is positioning its new system as one of its highest-performing blister packaging lines, and claims that it has a maximum output of 600 blisters and 400 cartons per minute.
In terms of sustainability, the company says that its new product is 100% climate-neutral, due to the fact that its potential effects are offset by the sponsorship of a climate protection project.
According to Romaco's group marketing manager Jutta Hartmann, showcasing its products in a virtual setting came with some unexpected advantages: "There are no problems with space – which is a first for us and something we can normally only dream of."
Bühler Franz Haas SWAKT-Eco
Bühler Group is looking to tackle conventional single-use packaging with the Franz Haas SWAKT-Eco, a machine that can produce edible and biodegradable packaging made from wafers. Above and beyond its potential waste-reducing credentials, the company also says that its new oven reduces emissions by 90%, while also using 30% less energy.
Laetus Modular X series
In the increasingly competitive world of track and trace, Laetus is aiming to set the bar high with what it says is the first fully modular serialization system on the market, Modular X.
The Modular X 1000-MV forms the basis of the system, reportedly marking and verifying up to 400 folding boxes per minute with barcodes or plain text, depending on product size and quality. At belt speeds of up to 60 metres per minute, a mechanically forced guidance apparently ensures that the secondary packaging with a maximum size of 120 x 100 x 200 mm is precisely processed. Laetus also highlights a compact GMP design, which it says allows for easy operation, cleaning, and maintenance.
Mosca's end-of-line technology
"Although we are currently unable to share information with our customers and others face-to-face, we see the virtual platform as an opportunity to showcase machines and concepts for a digital, automated future," explains CEO Timo Mosca.
The company put these words into practice by demonstrating its new end-of-line technology for securing bundled products for transport.
Bagging and packing systems from Syntegon
As one of the biggest players in the machinery market, it's no surprise that Syntegon decided to push ahead with a range of product announcements. Perhaps foremost among these is a brand-new bagging and case packing system for powder applications.
In demonstrating this system, Syntegon was keen to highlight its perceived sustainability benefits. The SVE 3220 Doy Zip vertical form, fill and seal machine can now use recyclable plastic and paper mono-materials. Further, Syntegon claims that its new product reduces material consumption, due to it having a bag-filling degree of up to 80%.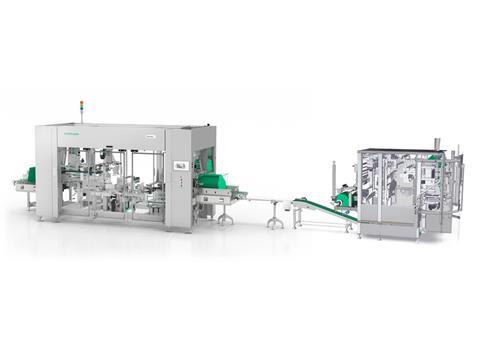 Another part of the system, the Elematic 2001 WAH case packer, is now able to use corrugated blanks made from grass fibre.
X-ray options from Ishida Europe
In the quality control and inspection sector, Ishida has announced a completely new range of X-ray machine options for detecting low to high-density foreign bodies in both packaged and unpackaged bulk flow formats. The company reports that its hygienically designed machines and options will display a number of new features, including easy to clean surfaces and easy to remove reject bins.
Ishida was also set to display a new range of checkweighers based on a new advanced electronic architecture that reportedly offers improved speeds and accuracies and enhanced touch screen interfaces across the board.
INTUITY THiNK by Sesotec
INTUITY THiNK marks a first for Sesotec – a metal detector with artificial intelligence. This intelligent metal detector apparently heightens safety and reduces waste due to its accuracy.
Sesotec also reports that its new machine makes it possible for detection to be used on metalized packaging.
What next?
It's clear that the packaging industry remains focused on innovation in the face of a global crisis. This doesn't surprise me – our industry will always find a way to push itself to the forefront of technology and sustainability, whatever the circumstances.
What was perhaps more surprising was the success of the alternatives to the physical interpack show, despite the relatively short timeframe in which they were developed and delivered. While, in my view, no virtual show can compare to the excitement and potential of an event like interpack, there are certainly some positive points in terms of sustainability and logistics. In the past few weeks, might we have caught a glimpse at a possible future format?