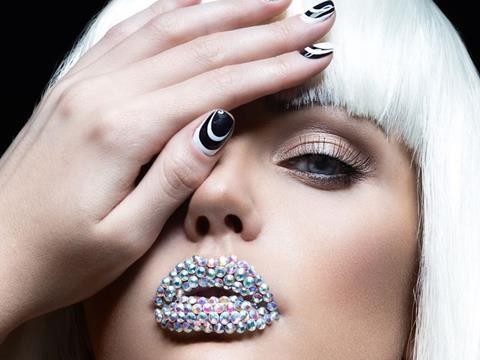 As part of a joint development project, Merck, SAUERESSIG, Siegwerk and Vrijdag – all suppliers to the packaging industry – have worked together on a brand new innovation: a unique RGB printing process with pearlescent pigments. Back in 2015, the partners have already presented the first successful printed results at the European Coatings Show. Since then, the experts have continuously developed and refined the process and the printing inks.
From January 31 to February 1, 2018, they will now present their new developments at the Packaging of Perfume, Cosmetics & Design (PCD) trade fair in Paris, Europe's leading event for innovations and trends in the cosmetic packaging industry. The CMYK ink build-up with the four process colours cyan, magenta, yellow, and black (CMYK) - known from commercial printers - has been used for printing so far. If you print cyan, magenta and yellow together on a white or light background, a fully saturated black is the result. This is also known as a subtractive colour mixing. The black colour "K" is used in CMYK printing as a type of ultimate black that cannot be attained with the combination of the other three colours. The RGB ink build-up is known primarily from TV screens and computer monitors in which a deep black can become a diverse colour spectrum with just a push of a button. For reproducing images, the colors red, green and blue are used on a black background. When combined, the result is white. This structure is also known as an additive colour mixing. The idea was to develop an RGB technique for printing. For this purpose, however, an entirely new type of reproduction technology is needed in the prepress phase. After carrying out multiple technical tests, the experts succeeded in refining the patent-pending process in gravure printing, which was developed by Merck in collaboration with Lorenz Bögli from the Siebdruck [Silkscreen] Studio (in Switzerland). Siegwerk developed the highly-reflective pearlescent print colours with pigments from Merck, which are also suitable for sensitive packaging applications like hygiene and cosmetics packaging.
Until now, packaging printing was only done on a white or light background and black was created only as a combination of the CMYK colours. With the new RGB printing technology, it is now possible to print images directly on a black substrate. The full-tone colour of red, green and blue complement to white, and – similar to the color "K" in the CMYK process – are enhanced with a silver white colour that is used to create a more brilliant white that cannot be achieved by combining the RGB colours. In principle, the image reproduction can be applied by means of additive colour mixing regardless of the printing process used. However, tests have demonstrated that gravure printing is the ideal process for transferring the pearlescent pigment. The volume of the cells can be precisely adjusted here to the ink used, which is the best prerequisite for a good printing quality as the effect pigments in RGB printing have a different volume than conventional inks. "With RGB printing, you can create an enigmatic effect on substrates that can make the printed image shimmer or gleam. As a result, the process opens up entirely new opportunities for brand owners to differentiate their packaging from the masses," says Oscar Bos. Sales Director at Vrijdag, about the benefits of the revolutionary printing technology.
RGB printing offers packaging designers and printers a larger colour space as well as a broader colour range and higher colour saturation. It also adds an unique surface gloss. The used pearlescent pigments give the print products interesting lighting and pearlescent effects that increase the visual value and create an unusual brightness. "RGB printing will not replace CMYK. Instead, it offers an additional option for creating unique and effective printed materials," adds Peter Clauter, Marketing Manager at Merck.
The packaging is a strategic instrument for brand management at the point of sale (POS) as about 70% of the purchasing decisions are just made directly at the store shelf.
Therefore, the first impression is crucial for the product choice. Especially in the area of premium packaging for luxury and high-quality products, consumers can be strongly guided by external appearances. Innovative packaging designs created with unique shapes, effective print images, or special haptical characteristics are the goal of every packaging designer. RGB represents an additional attractive option for targeted differentiation. "We are proud to be part of this revolutionary development and look forward to working with our long-time partners in the future on other innovations for the packaging industry," said Sarah Grafen, Head of Research and Development Business Unit Tobacco at Siegwerk, and Volker Hildering, Sales Manager at Saueressig. All four project partners are pursuing the overarching objective of supporting brand owners in their search for creative packaging ideas with innovative and high-quality solutions. The individual adjustment to the needs of every single customer is clearly the focus for all four companies.
With the motto "Lookxury. Joined Forces Bring Packaging to Life!" all four partners Merck, SAUERESSIG, Siegwerk, and Vrijdag will jointly exhibit at Booth 19 in Hall 1 at the PCD in Paris. From January 31 to February 1, 2018, visitors to the PCD can meet the experts from these companies in person and get a first-hand look at the effects of RGB printing technology.