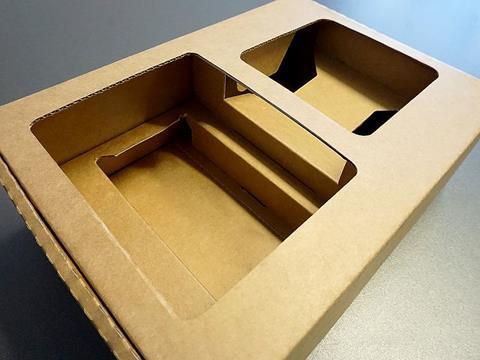 The Heilbronn-based cutting-die manufacturer Marbach will be represented at two stands at FachPack in Nuremberg.
At stand 612 in hall 7, Marbach will showcase its new products, which can provide users with greater performance in their production. In addition to its main stand in Hall 7, Marbach can also be found in Hall 3A as part of the theme park "Packaging in medical technology and pharmacy", where it will present its products especially for pharmaceutical manufacturers and producers of medical technology.
In addition to many new product developments, the central topic of Marbach's trade fair appearance will be service. Marbach has greatly increased its activities in this area in order to be able to offer its customers even greater performance.
Training Since March 2018
Marbach offers training courses in the fields of die-cutting paperboard, corrugated board and cigarette packaging. For 2019, plans for new training courses are already in place.
Marketing Manager Tina Dost: "The training courses on our die-cutting machine have got off to a very good start. Participants' ratings have been consistently positive. Above all they were impressed with the practical orientation, the high competence of the trainers and not least the practical applications. Based on the feedback we have received, we have adapted the training program for 2019. This is how we will ensure that our training courses best meet the needs of our customers." Marbach will present its new training programme in detail at FachPack.
Packaging development
In addition to customer training, Marbach will present its new service in the area of packaging development at FachPack.
Dost: "As part of a bachelor thesis, we carried out a survey among our customers. This has shown that the desire for services in the field of packaging development is huge. Our customers not only desire support with any newly developed packaging, but also with packaging optimization and CAD design according to sample." For this reason, Marbach has expanded its capacities in this area and now offers its customers this additional service in the field of packaging.
Performance boost package
Marbach's main objective is to increase the performance of its customers. This goal is not limited to the use of appropriate Marbach tools. In addition, Marbach offers the performance boost package. This involves analyzing the customer's die-cutting processes and so develop a concept for optimization based on this analysis. In this way Marbach customers can significantly increase their productivity, saving both time and money.
Marbach products for even greater performance
In addition to this extensive range of services, Marbach will present its latest products at the main stand. The mplaten|cleaner cleans the die-cutting platen so that make-ready times can be reduced. It is available for both paperboard and corrugated board machines. Besides the new marbanick|2, which easily inserts defined nicks into cutting rules, Marbach will present further brand new developments to which the visitors can already look forward to.
Special Exhibition "Packaging in Medical Technology and Pharmacy"
Dost: "But that's not all. We have many more new products on board. For example, a key focus at our stand at the FachPack special exhibition will be the topic hygiene. Here we will offer our customers the special tool package marbaclean, which ensures adequate hygiene when die-cutting packaging".
Find Marbach at stand 612 in hall 7 and also its stand 315 in hall 3A.