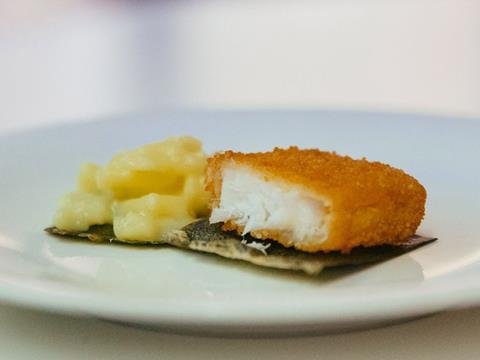 March 2018 saw the start of the two year research project Mak-Pak in cooperation with research institute Alfred-Wegener Institut (AWI), Hochschule Bremerhaven and fish restaurant and fast food chain Nordsee GmbH with the aim to produce a compostable and edible pack for on the go food made from algae.
Read more about the project here.
The new pack had to fulfil a range of requirements, such as leaving no algae taste and smell of on the packaged food, and no colour leakage or quick softening of the pack. In addition, the algae should be reusable in their entirety, not just individual components.
Over two years on, what results did the project yield?
Researchers produced the first macro algae prototype, a sheet of ten by ten centimetres, which was recently tested by Nordsee customers in Bremerhaven and Bremen in Germany for its feel, smell, consistency, look and taste.
Consumers were taken with the sustainable concept behind the idea. "I was pleasantly surprised at how thin and stable the algae material is," a customer said during the test.
Food technologist Ramona Bosse from Hochschule Bremerhaven reports that customers also liked the taste and the look of the material.
"Testers said that the green-blue coloured box tasted slightly salty, but not fishy. Many participants were surprised at the neutral taste and smell of the material."
In a follow-up project to Mak-Pak, the prototype will be optimised for manufacture on an industrial scale. Nordsee expects to be able to offer the new packaging on a commercial basis in two to three years.