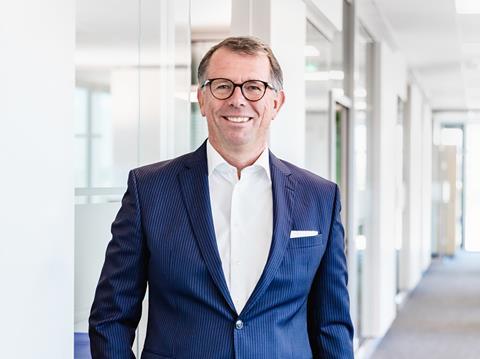 Libby Munford caught up with Christian Traumann, group president, MULTIVAC ahead of interpack 2021 to hear a leading provider of packaging solutions on the main trends it expects to explore on the show floor across the food, life science and healthcare sectors.
Libby Munford:
Multivac has spotlighted sustainability, digitalisation, and automation as the main focuses for its stand at interpack 2021. Can you talk me through each trend – what are the main challenges and demands from your customers in each category, and how are you innovating to meet these?
Christian Traumann:
Sustainability: The EU's Plastics Strategy, as well as national legislation deduced from it, are driving developments in the market, through which fully functioning recycling loops are to be implemented, as well as alternative materials are developed, which can better meet the requirements of a closed-loop system. By using different material and packaging concepts, manufacturers can make an important contribution to meeting the current market demands with regard to the implementation of a circular economy.
In order to implement sustainable packaging concepts in the food industry, it is essential to view the entire added value chain holistically, from the manufacturing stage through the logistics chain and right up to use by the consumer. In addition to the introduction of closed recycling loops and the reuse of plastic packs, it is also productive to look at concepts for reducing the consumption of plastics in the production of packs, as well as the options for using alternative packaging materials.
Digitalisation is an important key to mastering the increasing demands on packing in regard to cost efficiency and sustainability. Today MULTIVAC is already offering companies groundbreaking solutions with a wide range of tools for increasing machine availability and efficiency, and these can be implemented as required on a step-by-step basis. Viewed over the long term, digitalisation offers companies great potential, insofar as packaging machines and even complete production lines can be continually optimised through a self-learning process.
Automation: An ever increasing number of fresh and processed food products have to be manufactured and packed. But it has become more difficult to find suitable or qualified staff. At the same time, hygiene and quality requirements are increasing. Automation solutions can provide one way out of the dilemma.
However, compared to other sectors, the food industry overall still has a relatively low degree of automation. The main cause of the very subdued rise in the degree of automation in the food sector lies with the products that are processed: here it is a case of natural and often delicate products, which can spoil very easily. The packaging procedure in all its different parts has to be tailored individually to the product, its shape and its specific characteristics. It is therefore very difficult, or in many cases barely possible, to standardise the procedure.
The possible areas of use for automation solutions within the packaging procedure extend from product infeed and loading right up to pack inspection and secondary packaging or palletising at the end of the line. Automation is however only sensible, if the degree of automation is tailored to the needs of the company, and is economically viable.
Last but not least, we also see an enormous potential for automation solutions in the life science and healthcare industry. The ever-increasing complexity of medical devices requires a correspondingly increasing degree of automation of both production and packaging processes. For us, this results in the task to develop and offer complete solutions that can map the increasingly complex tasks with the highest degree of process reliability.
LM:
The topic of sustainability has exponentially snowballed since the previous event. How far do you think the packaging industry has come, and how can it work together using events such as interpack to continue on this journey? When it comes to sustainability, do you think the industry is focusing on the right things?
CT:
Above all, packs play a very important role when it comes to product protection and shelf life. The industry is working at high speed on the development of new packaging materials, including mono films, which offer comparable performance and product protection to those made from various different polymers.
It should be emphasized, though, that plastic packs have considerable justification in many areas, for example in regard to the ratio of packaging volume to protective function. Therefore, the CO2 loss of food waste might have a higher impact than the CO2 footprint of the package itself. But we should not only have the carbon footprint in mind, but also the loss of other resources as for example water in case that food would be wasted. Today, barely 40 percent of all plastics are used in the packaging industry. Of this some 40 percent is recycled, while another 40 percent is recovered for energy purposes. In view of these figures, there is still a lot of potential in the market with regard to closed loops.
LM:
Another big topic of this show is 'Save Food'. Again, how can your particular segment of the packaging value chain contribute to this all-important subject?
CT:
Due to its excellent protective function and a comparatively small volume input, plastic packaging can significantly extend the shelf life of food. It makes a significant contribution to reducing food waste. In complex industries such as the food industry, it is now a matter of protecting food along the entire value chain and logistics chain.
Moreover, we are consistently striving to reduce the packaging material used in the production of packs, by utilising specific equipment options and an optimised pack design. And last but not least, we are working with leading packaging material manufacturers to develop new packaging concepts, such as for example the use of recyclable materials.
LM:
MULTIVAC is just one element of a long and complex supply chain, but we have heard a lot about the need for more joined-up thinking and knowledge-sharing along the entire chain if the industry is to achieve its sustainability targets. In your opinion, what are the most promising technologies / approaches to ensure this happens?
CT:
Not only for MULTIVAC, but for the entire packaging industry, there are two major fields of action: the first concerns the significant reduction of packaging material through the use of suitable machine technologies, the design of packaging that ensures a reduced packaging weight and the processing of packaging materials with a low plastic content.
The second area of action concerns the production of recyclable packaging through the processing of alternative packaging materials and the development of a recyclable packaging design. However, the question is, how the use of alternative packaging materials and alternative packaging concepts influences the shelf life of the products – and how product protection can be ensured by the entire process chain, for example, of foodstuff.
In regard to packaging solutions, innovative packaging solutions use energy-efficient servo drives, sensors or tool changing systems, which not only guarantee an extremely efficient packaging process, but also have a positive impact on the energy balance of the packaging process.
LM:
As a veteran of interpack, can you give me your opinion on how packaging machinery has advanced over the years, and how does interpack encourage innovation, competition, and progression? What are the biggest benefits for a company such as yourselves of attending this event?
CT:
Over the years, packaging machinery has advanced in terms of the packaging material used, e.g. the film thickness has been reduced significantly as well as innovative concepts for sustainable packaging have been introduced. Also, IoT has found its way into the construction of packaging solutions.
interpack encourages progression, as many companies develop new innovations in a three-year cycle. As leading international trade fair for the packaging industry, interpack gives us an opportunity to present ourselves to an international audience as a holistic solution provider for the processing and packaging of food as well as healthcare and life science products.