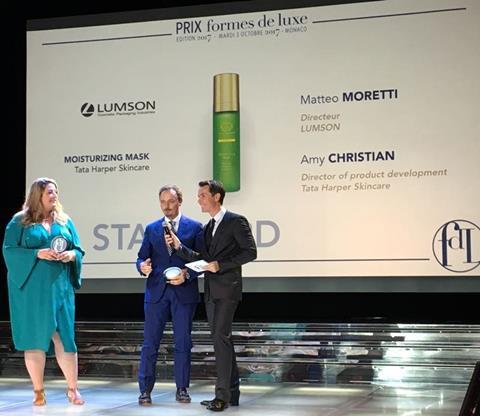 The research of innovation doesn't stop at Lumson: this year, the Crema-based company has also received a very prestigious award in the cosmetic packaging sector.
The "Prix Formes de Luxe" field was assigned to Lumson on October 3rd in the framework of the Montecarlo Sporting Club: the prize is assigned by a jury made of experts from the "Beauty & Luxury" sector to companies who present innovations of product, process or decoration applied to collaborations with international and successful brands. Lumson won in the "Standard Packaging" category thanks to the collaboration with Tata Harper Skincare, an American company that proposes products with 100% natural formulations.
Tata Harper has identified in Lumson's Airless TAG bottle the perfect packaging to conserve its "Moisture Molecule Complex" patent, a special formula that nourishes the skin with biocompatible hyaluronic acid. The Lumson glass bottle is equipped with an Airless system, a technology that guarantees maximum formula protection, avoiding the product's contact with external agents that deteriorate the properties.
Matteo Moretti, CEO of Lumson, comments on the award: "In the field of dispensing systems, the innovative Lumson Airless System with "pouch", now available in a large range of glass and plastic containers, is already widespread in the world , and is a solution for all customers interested in developing formulations continually more oriented towards natural products andlimited use of preservatives. We are proud of this recognition, a tangible testimony of competence, know-how and quality, that we export with passion and dedication on a increasingly global scale".
This is not the first time that Lumson walks the stage at the Prix Formes de Luxe: in past editions, the award was attributed to collaborations with important brands such as Yves Rocher, L'Oréal, Lierac, Caudalie, Sothys and many others.
For over 40 years, Lumson has been active in the cosmetic packaging field: its product range includes both standard packaging solutions and customized solutions studied for specific needs of its customers. A "Made in Italy" design, attention to quality, control of all main traditional and innovative decoration technologies and also orientation in product and process innovation, are the characteristic features of Lumson.
More info: