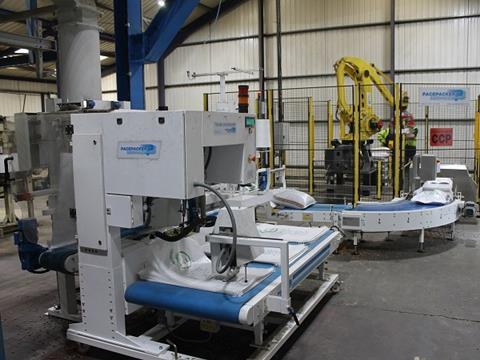 Automation can transform a packaging operation overnight, but it requires careful preparation and inside knowledge. The team at Pacepacker Services share their experience of the types of challenges that need to be identified and ironed out before a solution goes live.
Even given the increasing incentives for automating packaging operations across many consumer goods sectors, some manufacturers remain wary – not least of solutions which offer significant efficiencies and a convincing return on investment (ROI) on paper, but where in practice benefits are much slower to materialise.
With a long and successful track record in delivering automation projects that increase production productivity, Pacepacker has researched the reasons why project results may occasionally deviate from the initial plans. It concludes that, even where a project has been scoped out fully with the client, these problems are typically the result of issues with downstream – or more usually upstream – equipment or processes that have not been raised or considered in project management meetings.
"In February this year, consultancy firm Mercer forecast how workforce numbers could fall post-Brexit, and recommended that increased automation should be part of a solution for the UK," says Pacepacker's Commercial & Information Systems Manager Paul Wilkinson. "At the same time, the Prime Minister has pledged to invest an additional £2bn in areas of R&D which include automation and robotics. Businesses don't have to invest that much to reap the benefits, yet it is vital to carry out some careful groundwork before defining every project."
Planning to succeed
Even the most spontaneous business needs to plan ahead. The results are only as good as the initial plan. This is especially true in automation projects. Smaller businesses unfamiliar with the automation process may run away with the idea that solutions are generic, and somehow 'plug-and-play'. But of course, by definition, the performance of an integrated operation is heavily conditioned by the equipment around it.
Post-commissioning, manufacturers may not have the luxury of additional hours or days of downtime while trouble-shooting and problem-solving take place. Where the company is relying on its automated line to fulfil a new and valuable retail contract, the urgency will be even greater.
In each of its three core areas of case- and tray-loading, palletising and bagging, Pacepacker identifies potential problems with packaging lines which, if not addressed in the initial brief, can lead to delays and additional costs once the automated line is commissioned.
Taking a typical case packing scenario, Paul explains how a simple factor like the sealing of primary packages like cartons or containers can impact a robots ability to pick up and manoeuvre products using a vacuum end effector and place into trays. In this instance, if the systems integrator is warned about the loose lids and how often they occur, the challenge can be addressed at an early stage, rather than only when it brings the newly-installed equipment to a halt.
"Of course, we can gather an awful lot of foresight by observing how the process is currently being carried out, before developing a solution," says Paul. "Yet, there may be intermittent problems that we do not witness, or issues with particular variants in a wide and varied range. If so, it is imperative that we are told about them."
With operators in attendance, pinch points which need low-level manual intervention or informal quality control, such as spotting occasional packs which are not filled, may barely register as 'problems' on the line. But once the line switches to being fully-automated, these are precisely the types of issue which can trigger a machine shutdown and cause potentially long or repeated periods of downtime.
Customer insights provide the keyIt is important to remember that the customer will have considerably more experience – and probably more direct knowledge – of certain key processes in the packaging line than the systems integrator. "We cannot pass judgement, or provide advice, on some upstream or downstream processes that we have limited experience or knowledge of," Paul notes. "We rely on the customer or other machinery manufacturers for those insights."
At the palletising stage, issues can arise with inkjet or other types of coding. "Often, the action taken or destination for a finished case or other traded unit will be determined by a scan of the code," says Paul. "So code readability is essential. The customer should always have a validation system in place, but if not, we can assist. If there are frequent rejects, it could be a problem with low-quality inks, or simply with the inkjet nozzles not being cleaned properly."
In fact, the performance and reliability of upstream equipment are surprisingly common factors and will generally be the culprit for shutdowns on automated lines.
How upstream units seal, glue or tape case flaps down can equally impact the reliability of robotic palletising. Here, the replenishment of consumables, including glue and tape, inks or labels at a coding station, mustn't be overlooked in order to keep a fully-automated line running uninterrupted.
Even the packing of raw product on the line can have an effect on automation. With bagging being a mainstay of Pacepacker's business, the company is all-too familiar about the challenges of bagging powdered bakery products. "Varying levels of coarseness, fat content or aeration will behave differently at the filling stage, and bags may require specific types of manipulation," notes Paul.
Remember … the robot isn't always to blame
When a line is up and running, more often than not it's human intervention that can throw a well-planned project off course. As part of the project strategy, plan for workforce training and engage the team in the early stages to ensure that everyone has bought-into the new installation. "Some or all of the operators on the manual line might be stepping into the role of supervisor for the new system, and will require training for these new responsibilities," Paul points out. "The same may be true for the technical or engineering team. Again, this may be their first encounter of a robotic system, so check they have the technical skills to support the system and the troubleshooting skills to iron out minor issues if they arise."
Generally speaking, the smaller the project, the less challenging internal communications are likely to be. Yet, more sizeable installations could require the involvement of engineering support and logistics, for example, as well as HR. The customer will need to ensure that basic information about the line is agreed on and shared throughout these different departments.
"The internal team managing the project should, as part of its preparations for automation, work up a detailed product matrix for every variant coming down the line," says Paul. "That should include the SKU code, description (with dimensions and weight), any labels and codes and the palletising specification." He emphasises the need for each matrix to be fully up-to-date at the launch of the project.
Automation, and robotics in particular, can at its best do far more than simply duplicate a manual operation. It can offer speed, reliability, consistency but also reprogrammable versatility to meet future production needs.
But the starting point for any project must be the fullest possible knowledge about the other operations in the line and the different products being handled. Pacepacker believes this is so critical to success, and to the realisation of ROI, that it has teamed up with Festo Training & Consultancy to offer Automation Awareness workshops for customers.
Paul advises: "As every actor knows, it can be 'all right on the night' with an outstanding first-time performance, when it all goes live. But before all that can happen, you need to put plenty of effort into 'learning your lines'. The same principal applies to manufacturers and their automation projects."