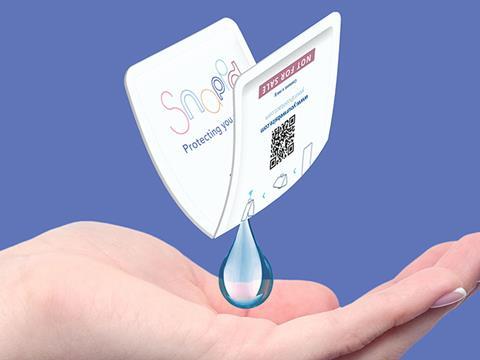 Lifestyle Packaging has announced Snappd – a unique one-hand dispensing mechanism for alcohol-based hand sanitiser.
The company says that many hand sanitiser dispensers on the market are plastic unit dose bottles which can be touched by several different people. This could unintentionally contribute to the spread of bacteria and viruses, such as COVID-19, in retail, office, transport, and healthcare environments.
Snappd avoids multiple contacts. The sachet can dispense a single dose of hand sanitiser gel when it is bent in half with one hand, keeping contact and cross-contamination to a minimum.
Each Snappd sachet (50mm x 50mm) contains 1.5ml of body-safe and odourless 71% alcohol sanitiser which apparently leaves the hands bacteria-free without the need for rinsing or drying. The sachets reportedly have a shelf life of 12 months if kept at ambient temperatures.
The company also argues that its new product delivers cost and environmental savings when compared to other dispensing solutions on the market. Each compact pack contains 250 single-use Snappd sachets, allowing the transport of large volumes using minimal space. There are currently three different material formulations – compostable, bio-based using renewable sources, and recyclable.
Beyond hand sanitiser, the Snappd mechanism has a variety of customised opening functions for different personal care and food products: For example, a half-moon shape for high viscosity products like cosmetic creams and honey, a zig-zag shape for powders and granules, and a rectangular shape for spread applications.