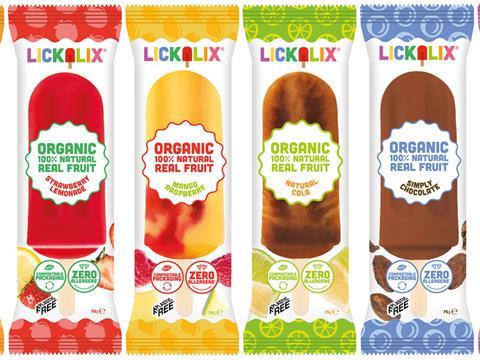 As of April 2019, organic lolly company LICKALIX will be 'the first iced treat company in the world to introduce plastic free, compostable packaging' with the plastic free trust mark awarded by The Plastic Planet.
According to the company the lolly packaging can be composted in a food waste bin and will decompose within 12 weeks, and will also be marine compostable which means that it will organically decompose if it ends up in the ocean.
LICKALIX says it has 'always believed in the mission to provide an organic, all-natural and free-from alternative to have in every family's freezer'. After many months of research, the company has now decided to go plastic-free.
Food retailers are under increasing pressure, from both consumers and government, to reduce the amount of plastic packaging and food waste that is being consumed and thrown out, with specific emphasis on single-use plastic. LICKALIX says its aim is to demonstrate to the frozen category that plastic free alternatives exist and can be successfully used.
Over the last six decades, 8.3 billion metric tons of plastic has been created and of that 8.3 billion tons, only 9 per cent has been recycled (National Geographic, 2018), so - as we have reported extensively - there is clearly a need to address the problem, whether this is by using alternative materials or radically improving plastic recycling infrastructure.
Consumers are becoming more aware of the environmental impact of their packaging. Research by Edie in 2018 found that 88% per cent of UK shoppers now want on-pack information on packaging sustainability and 68 per cent say the environmental impact of a product's packaging affects their purchasing choice.
The founders of LICKALIX, Karis and Dominic Gesua, explain their decision to go plastic-free: "We are only a small family business but we want to lead the way for everyone to invest in sustainable packaging to reduce plastic use and to make the planet a happier place to live in. Retailers can benefit from our plastic free ice lolly packaging because it's compostable, the products are more profitable than other competitors, customers demand it which leads to increase in demand and footfall and it's what consumers want!"