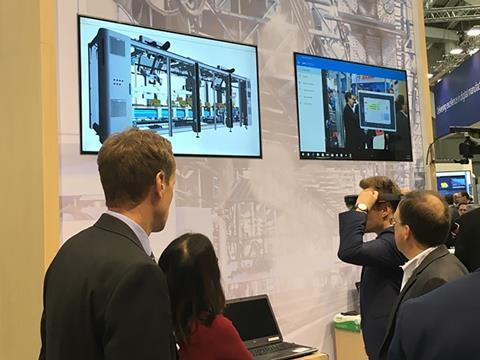 Integrating Industry 4.0 systems has numerous benefits for packaging lines, particularly when it comes to data capture. Jasper Joosten, Global Key Account Manager at Cama Group, talks to Victoria Hattersley about the industry uptake of these emerging technologies and how Cama itself is building its own product offering around them through its Industry 4.0 roadmap.
By now, we are all aware of the potential for improved data capture to boost efficiency in production lines. Installing smart packaging lines can help manufacturers optimise their lines, reduce waste, and increase speed and efficiency.
Cama Group, which offers complete packaging lines with a particular emphasis on automation, is well-placed to understand how Industry 4.0 is driving the industry forward. Indeed, the company's range of 'Break-Through Generation' (BTG) systems have been designed to be 'future-proof'; its intelligent and interactive machines have predictive maintenance and continuous monitoring features to enable operators to make ongoing efficiency improvements.
And the call for ever-more sophisticated technologies is only going to increase. Notably, according to Jasper Joosten, what Cama is seeing is a growing interest in implementation of technologies relating to simulation (virtual engineering / digital twinning), system integration (virtual augmented reality) and integration (condition monitoring).
"There has been consistent demand from western Europe and the US, where we are bringing automation to a higher level by focusing, among other things, on secondary packaging lines," he says. "There is also increased demand from China for secondary packaging lines utilising the principles of Industry 4.0."
Improved data capture
Mr Joosten tells us companies are increasingly starting to implement more comprehensive central systems for data collection. We are especially interested in the ways in which improved data capture can drive efficiency. For example, analytics technologies such as the FactoryTalk solution offered by Rockwell Automation can digitise, analyse and transform data to identify concrete improvements to make.
Digital twinning is a good example of how such data is being leveraged: digital replicas of physical assets can enable us to access real-time data on how a machine is operating and how efficiency can be improved.
"Five years ago, Cama introduced the iTRAK intelligent track system from our partner Rockwell Automation on our first secondary packaging application. We are now building a data library using digital twinning for this solution. We have also been implementing digital twinning on integrated box form, load and closing machines of our IF series that integrate the iTrak, which has proven particularly effective for monitoring the impact of, for example future formats and size changes."
He adds that when it comes to installing these kinds of solutions, today's customers are looking for suppliers who can not only provide the machine, but can also be there from installation and throughout its entire life cycle in order to ensure efficiency is optimised.
"For us, the most important thing is to be there from the start so we can manage all the data for our clients. To have the perfect packaging line you have to have the perfect conditions around it, so we are continuously looking to find ways to optimise conditions for the operator. For example, we recently finished a project in close co-operation with one of our main key accounts in the food industry to resize machine components in order to reduce power consumption."
Re-fitting, not replacing
While Cama works mainly with multinationals who will periodically invest in replacing their lines, it is true to say that regularly replacing a complete production line to keep pace with technological development may not always be achievable for all companies. With that in mind, re-fitting existing machines, while not providing all the benefits of a totally new installation, can be an option.
"We have, for example, developed easy add-ons for clients' existing systems so they don't have to purchase the full version each time. In the future I think we will be seeing more demand for this kind of service as the number of SMEs grows."
What next?
The world of Industry 4.0 is continuously evolving and so for companies like Cama, there is a pressure to remain at the forefront of innovation. "In terms of R&D, we make constant improvements on our existing machines," says Mr Joosten. "To give just one example, we are currently developing an innovative solution for the pharma industry, using top-loading rather than horizontal machines. This is quite a groundbreaking approach which could be used, for example, for Stickpack packaging."
I was also interested to know which technologies in particular Cama feels will be shaping the landscape of Industry 4.0 in the years to come. Mr Joosten says we can expect a take-off in virtual experiences as well as cloud computing – although the latter "will first require practical solutions for cybersecurity issues and therefore we expect that in our secondary packaging world the developments there we be in the mid- or longer-term."