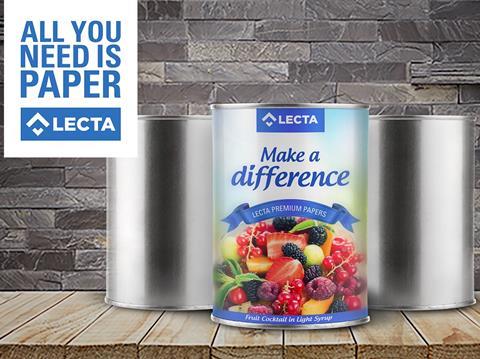 Lecta will present and exhibit exciting new products and innovations within its extensive range of specialty papers for labels and flexible packaging at Labelexpo Europe 2017.
Metalvac, Lecta's high-vacuum 100% recyclable metallized paper, will be presented at Labelexpo Europe in the form of a new catalogue. The sample book is made up of three folders that correspond to the brand's three application segments: wet-glue labels, pressure-sensitive labels and tobacco and packaging. Each multi-lingual folder (ES/EN/IT/FR) contains technical specifications and product samples in different colours and finishes.
Metalvac A HG is the newest addition to the range of Metalvac metallized papers. This facestock with an excellent gloss finish has been designed for producing selfadhesive labels for the beverage industry. It is suitable for printing in offset and UVoffset, flexo (solvent, UV, water-based) and letterpress (solvent and UV).
The new and impressive Labels to Celebrate collection consists of 16 graphic design proposals of self-adhesive labels for the beverage industry. It beautifully highlights the different possibilities that the Adestor line offers the sector's printers and manufacturers. The swatch book contains 27 labels that have been produced in a wide range of printing techniques such as silkscreen, stamping and embossing, designed for embellishing different containers: wine, cava, spirits, water and beer bottles.
At the trade fair, Lecta will also present its new Adestor catalogue with the full range of facestocks, adhesives and liners including printed samples of in-demand advances and technical information in five languages (Spanish, English, French, Italian and German).
Noteworthy additions to the range include:
- Adestor Matt Inkjet and Adestor Gloss Inkjet: facestocks designed for waterbased inkjet printing and suitable for all kinds of labels with matt and gloss finish.
- Adestor Metal HG WS: superior high gloss facestock with moisture-resistant treatment for refrigerated bottles, ice-water immersion as well as recoverable bottles.
- HM300: permanent hot-melt adhesive for high-speed air-blow labelling available in combination with different paper and film facestocks.
Creaset Endless possibilities, Lecta's extensive range of one-side coated paper will also be on display at the trade fair for its two application segments Labels and 00Packaging highlighting its latest products:
- Creaset GP and Creaset GP Adhesive: one-side coated greaseproof papers designed specifically for wet glue and self-adhesive labels.- Creaset FP: flexible packaging applications for packets of soup or coffee or hotchocolate sachets.
Lecta's Termax thermal papers guarantee optimum bar code definition for direct thermal print applications. The "Label" range for self-adhesives consists of highsensitivity unprotected thermal papers widely used in the food, logistics anddistribution sectors and in industry in general.
Eurokote is Lecta's line of cast-coated high gloss papers. Their high whiteness, smoothness and high image definition make Eurokote papers the ideal solution for all sorts of labels: cosmetics, perfume, food and beverage notably wine, cava, spirits and water.
Find Lecta in Hall 5, Stand D15.
More info: