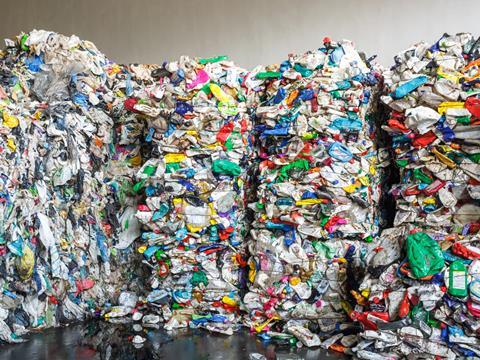 A newly-formed group comprising leading companies including Procter & Gamble, Mondelēz, Unilever, SIG, Tetra Pak, and Amcor has committed to a new set of design principles with the aim of improving the recyclability of plastic packaging.
The Plastic Waste Coalition of Action, whose members have a shared revenue of more than 1 trillion euros and represent more than 10% of the global plastic packaging market, has pledged to adopt these rules wherever possible by 2025.
The first design rule aims to improve the economic viability of PET bottle recycling by removing colouring pigments and labelling methods that impact recycling rates.
The second design rule will remove materials that, the group argues, are problematic for recyclers from all forms of plastic packaging – such as carbon black, PVC (polyvinyl chloride) and EPS (expanded polystyrene).
By implementing these rules, the group hopes that recycling will become easier, cheaper, more efficient, and quicker to scale – resulting in less waste leaking into the environment.
The members have also committed to reporting on their implementation of the rules through a process aligned with Ellen MacArthur Foundation's New Plastics Economy Global Commitment reporting.
Alan Jope, CEO of Unilever, said: "We must urgently take action to stop plastic waste and move to a circular model. This is the number one priority for us as a Coalition. No one business can achieve this on its own, which is why we've joined forces to drive change across our own industry and to hopefully set an example for other sectors."
Peter Konieczny, Amcor's CCO, added: " Our business has achieved consistent success in using our innovation capabilities to eliminate materials that hamper recycling and we continue to use more recycled content in our packaging. We are keen to use our expertise alongside the Plastic Waste Coalition of Action to help consumers make a positive contribution to protecting the environment."