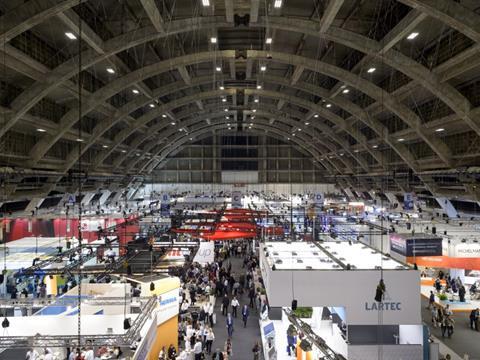 Packaging Europe journalist Rima Evans takes a look back at Labelexpo Europe 2019 in Brussels and discusses some of the highlights.
A dynamic and increasingly diverse marketplace is driving innovation in the label and package printing industry, this year's Labelexpo Europe show in Brussels highlighted.
Customer driven innovation is a major current theme. Brand owners are pushing for new solutions and technologies that fit their unique requirements or strengthen consumer engagement rather than merely focussing on what's already on offer or more routine business processes.
Technology is being further advanced by an expansion of niche businesses and segmentation of larger markets each requiring a wider range of labelling and print options. In addition, as was widely predicted, the issue of sustainability is also making its mark.
"In the label space, there is certainly a diversification of technologies and applications," says Danny Mertens, corporate communications manager at Xeikon.
"Customers are no longer seeking advice on equipment or asking about a machine's specification and how fast it is. Instead, they have an end product in mind and are approaching us for solutions to produce what they need. It's customer driven innovation - they are coming up with ideas for different effects or techniques, which we develop with them by trying to find substrates, the right software and so on."
That shift is partly down to certain labels needing to meet more rigid standards or more complex functional specs (high durability, for example) but it's also being spurred on by consumer trends.
Increasingly, brand owners are seeking to create labels with maximum shelf appeal, explains Gary Jenno, segment business manager at Xaar.
"They are looking for the wow factor and for labels to add value by enhancing the buying experience for customers. If the labels don't help their products sell or stand out in a display then businesses aren't interested. So, a big trend right now is digital embellishment."
One example that's popular, adds Jenno, is a tactile or textured effect on packaging and labels, achieved through printing high levels of UV varnish.
"However, this show demonstrates how people are finding different ways to embellish whether that's by adding metallics, or a new cold foil. And although this trend is big with high-end brands or sectors such as health and beauty, wine and beer, it will start to become more mainstream."
As the market continues to operate across both analogue and digital printing, features such as these are certainly a selling point for the digital side, says Jenno.
Which is another big topic being discussed in the industry.
Kim Beswick, general manager of Memjet's benchtop and mini-press division,says the move to digital is steadily growing. That's down to its flexibility and efficiency, and suitability for businesses needing to remain nimble, she adds.
"Inkjet technology is leading the transition to digital. It's partly driven by the increase of smaller manufacturers especially in the food and beverage market, which is seeing a rise in the number of craft and local traders all of whom need right-sized print runs. E-commerce is also contributing to a demand for short print runs.
"Not only that larger brands are looking to be more relevant to their customers through greater personalisation or customisation of product lines, for example. This all requires greater flexibility, being able to print on demand and so preventing waste and cutting out the need to store huge amounts of inventory, which also brings financial savings.
"The move to inkjet - and our focus - is on delivering that speed, capability and at affordable cost."
Ramping up efficiency and cost effectiveness are concerns that are always on the business agenda.
Kelly Kolliopoulos, global marketing director at Flint Group's Narrow Web Division, says: "Technologies that reduce complexity, save on costs or meet new application requirements are key. The advancement in UV LED technology is very important because it can lead to energy cost savings and higher printing speeds, and thus press productivity. For some customers it's leading to 20 or 30 per cent faster printing speeds."
Kelly also explains how software innovations are being implemented to streamline processes and "make customer's lives easier." Flint Group has launched a web-based colour management solution, she says, that removes the guess work out of ink colour formulations and offers a high level of accuracy because it is tailored to the way customers print, working with multiple print methods and substrates.
As markets are growing and product lines being expanded, the need to continuously reduce complexity but also maintain efficiency and performance is a challenge, adds Xeikon's Danny Mertens. He indicates that the solution lies in automation.
"Dealing with variable data or multiple SKUs can increase the risk of errors. Investing in automation can improve accuracy and can reduce logistical complexity. We integrate with MIS tools in the market or work with partners to provide automation at every step of the label production process. It is growing in importance because it ties in with the shift towards customers needing more complete and innovative solutions."
Meanwhile, what is also accelerating change is the issue of sustainability. For Taghleef Industries, which manufacturers high performance films for packaging and labels, it's a critical area that has prompted a rethink in product design.
"Consumers are very concerned about plastic pollution," says Monica Battistella, key account manager at the company. "With China banning waste imports as well as action on plastics at EU level, businesses want to become more sustainable by recycling or redesigning where possible and reducing waste and even the weight of packaging. It is a major drive of innovation for all stakeholders in this industry," she says.
"The packaging solutions we provide have to support our customer needs in terms of offering something they can customise but also be more environmentally friendly. Our focus is on the circular economy and ensuring everything we use goes back into a new product or is recycled."
"Taghleef Industries has bio-based and biodegradable films as well as BOPP films for the labels community. The whole portfolio offers different end-of-life options including industrial composting or recycling."
"Sustainability will remain a key issue over the next few years. We have to provide solutions that are effective in meeting both business needs and environmental ones," she adds.