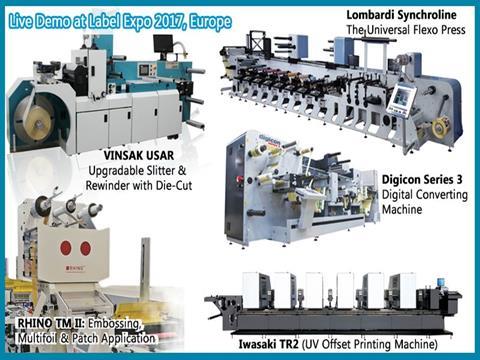 VINSAK, one of the leading print & packaging equipment suppliers along with its strategic associates will showcase the complete range of label printing and packaging solutions for the world market at LabelExpo Europe.
VINSAK will show a live demonstration of VINSAK USAR (Universal Slitter & Rewinder) at Label Expo Europe, 2017. The new post press machine has a modular design and provides high-quality label finishing. The USAR has a slitter rewinder with Die-Cutting unit, 100% Inspection system and Inkjet System for Variable Data Personalization. It can throughput at the speeds of 300 meters per minute. ( Hall 7 Stand B43) Visitors can also visit the company's strategic associates and watch live demos of machines, collect brochures and meet industry experts. Key attractions include:
- ABG International will demonstrate Digicon Series 3-Short run converting press, Digilase-Laser converting press, OMEGA SRI-Slitter & Rewinder, Vectra ECTR-Turret Rewinder and Omega Booklet Machines.(Hall 6 Stand A37)
-Lombardi will be displaying SYNCHROLINE 430 eight colors UV Flexo press having TORO and BRAVO units, fully servo assisted with the automatic register and pre-register. Lombardi will also provide a demo of its INVICTA 630 six colors, full servo gearless flexo machine having 10 motors for each printing unit and sleeve technology with pre-register and auto-register control ideal press for printing of different kind of films. Apart for this, DIGISTAR with Domino inkjet 5 colors unit, semi rotary Flexo unit, cold foil and semi-rotary die will be displayed. It will be able to combine digital printing and finishing in a single operation. (Hall 11 Stand C53)
The key highlights of these machines will be the accuracy of the register and the rapidity of the job change over, ABS servo and ABS sleeve printing group, TORO, hot foil unit inline and BRAVO and inline flat screen unit.
- Embellishment plays a key role in label printing; it makes a label more attractive. Pantec GS System will be showcasing SWIFT having 3D spatial registered hot foil patch & Rhino having Highspeed Flatbed Foil embossing with the registered patch. (Hall 5 Stand A36)
- The print quality of Offset Machines is well known in the label industry. Our partner Iwasaki International will be showcasing TR2 Intermittent Offset Press. TR2 offers very high-quality offset prints with all finishing processes inline and uses both conventional wet offset as well as waterless printing plates.( Hall 7 Stand B43)
- Schober Technologies will be demonstrating Sheetline SL 106 equipped with a high-speed belt stream feeder, a heavy duty die cutting station and a robot-automated stacking, counting & piling system. (Hall 8 Stand A52)
-Lastly, Jet Europe will be launching the Aguagreen water-washable flexo plates, LSL waterwashable letterpress, and UV flexo plates together with new generation processors range from the Jet Line 500/700/900 flow line system with automatic washout and separate Black mask removal station to the Water Press, an all-in-one processing tower.(Hall 11 Stand D27)
Visitors looking for a live demo of machines can book their business meeting with VINSAK team.
More info: