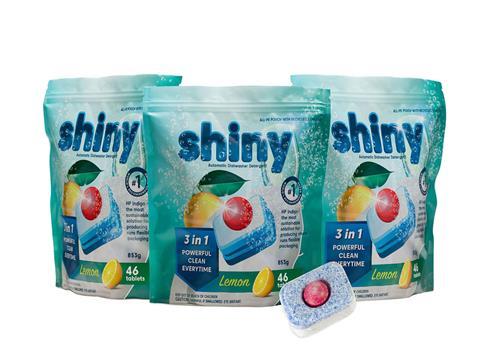 Dow, HP, Reifenhäuser, Cadel Deinking, and Karlville have announced a "pioneering" proof of concept for recycling PE-based barrier pouches into new, high-quality PE pouches that the companies say are suitable for repeat recycling.
The first-of-its-kind recycling concept uses a multi-stage process to support a circular economy for digitally printed pouches, according to the companies.
The project team says that, using mechanical recycling and delinking, it has created a high-quality dishwasher MDO-PE 1 pouch containing 30% recycled contents, apparently also suitable for recycling.
Ralf Wiechmann, head of film innovation at Reifenhäuser, says: "We have modified and enhanced our Reifenhäuser production lines to enable films and packages not just to be economical and functional, but to meet the vast demand for recyclable packaging based on mono-material structures.
"For this project, we've broadened our machinery expertise to co-extrude the new resins on our highly flexible EVO 9-layer blown film line and produce PE-based packaging films at fast line speeds.
"This project shows that we can successfully produce recyclable packaging, according to Recyclass and CEFLEX guidelines, and use recycled materials in high value applications if we collaborate effectively along the value chain."
According to Itai Shifriss, head of Indigo Business Supplies at HP: "To create the new pouch, HP reverse-printed the recyclable MDO-PE film on the HP Indigo 25K Digital Press with the dishwasher pouch artwork, to have it ready for lamination to the film using recycled resins at Dow's Pack Studios.
"Sustainability is a key strategic growth area for HP customers and HP, and in order to drive the circular economy we collaborate with leading value chain partners."
Laura Evangelio, senior technical service and development specialist at Dow Packaging and Specialty Plastics, adds: "Thanks to Dow's Pack Studios and a team of world-class scientists, we could apply our full expertise and testing capabilities to make our resins work in this proof of concept.
"The first PE-rich pouch was designed for recyclability with up to 5% EVOH in the total structure for barrier functionality, and Dow's innovative resins provided a remarkable stiffness-toughness balance, low-temperature sealability, adhesion to extruded barrier layers and excellent bubble stability.
"For the second PE-based pouch, we used a high-performing solventless adhesive to enable the lamination of the MDO-PE film to the PE-film containing recycled resins from the first pouch."
For the second pouch, Pablo Cartagena, business development manager at Cadel Deinking, explains: "To produce the recycled PE resins for the second pouch, we used our deinking technology to achieve the best outcome.
"The deinking process is key because it effectively removes ink from the plastic surface to obtain a plastic with similar characteristics to the raw virgin material, which helps to provide high-quality pouch-to-pouch recycling.
Gustavo Guzzi, EMEA sales manager from Karlville, says: "The Karlville pouch machine is one with the most compact footprint on the market, designed for extremely low set-up waste and quick change-over, perfectly suitable for recyclable materials."
In addition, the team says it is working on incorporating digital traceability to the pouches in line with the R-Cycle initiative. An aim of the initiative is to automatically record recycling-relevant packaging properties during production by providing a digital product passport, which is then passed on through the value chain.
Using special markings, usable packaging can then be identified in the recycling process and sorted into single-type fractions.
The team claims this is key to obtaining high-quality recyclates and helping to create a circular economy.