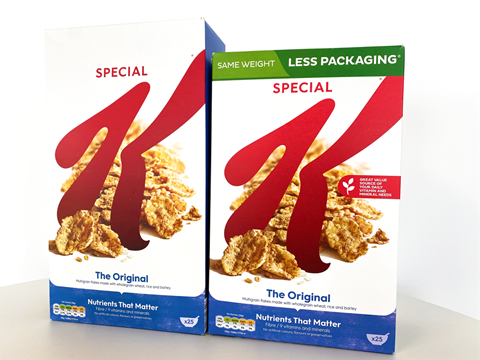 Cereal and snacks giant Kellogg Europe has unveiled plans to remove excess air from its cereal packs – a move that it expects will help to remove 700 tonnes of carbon from its operations per year.
A raft of measures, including this new packaging pledge, was announced as a part of Kellogg Europe's Wellbeing Manifesto for its European business.
Over the next ten years, the company says that it will address the carbon footprint of both its packaging and operations across the continent, while also tackling salt and sugar, increasing fibre, and feeding more people in need.
According to Kellogg, 700 tonnes of carbon will be stripped out of the company's operations as a result of the planned changes to its packaging - which centre on the launch of a new type of cereal box with less air space and packaging.
The company projects that this will see it use almost 190 tonnes less cardboard and plastic annually which, when combined with transport efficiencies, will reportedly remove 700 tonnes of carbon a year.
The new packs will include the same weight of cereal and are scheduled to roll off production lines at its Manchester manufacturing facility this Spring. They will be available in several European countries including Belgium, France, Spain, Italy, and the UK.
Kellogg Europe's president, Dave Lawlor, said: "People are rightly demanding more from companies like ours and everyone expects good food to do a world of good too. We agree. That's why we are launching a major new plan to improve our foods.
"Over the past years, we've done a lot of work to reduce things like sugar and salt while keeping the same great taste people expect from our foods. And, we'll continue to act here as we know it is important.
"But the impact of our food is much broader than just what goes in the box. It's about how we grow our ingredients and the impact we have on the planet and how we cook and make our food. It's also about the social and emotional role of food and how it brings people together."