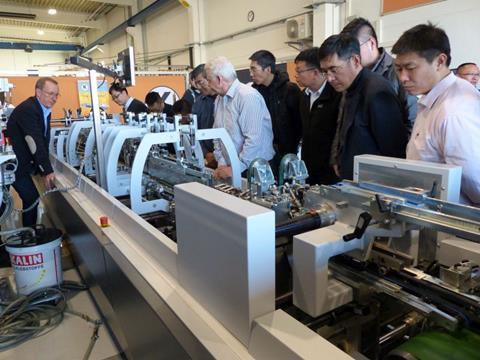 The German based KAMA GmbH has had the most successful year in the company's history and closes the 2016/17 financial year (on March 31st) with record sales of 14.75 million euros.
The strongly developing machine manufacturer for print converting and print embellishing achieves a double-digit growth and increases the proceeds of the previous year by 13 percent with a clearly positive operating result. "In our core business, the construction and sale of own machines, we even realized a growth of 30 percent", says KAMA CEO Marcus Tralau.
Efficient for short runs
"The novelties we have presented at the Drupa - the world's first folder gluer for short and digitally printed runs in particular - have been very well received in the market", says Tralau. KAMA was the first manufacturer that developed - with the FF 52i - an efficient solution for the booming demand for versioned and personalised folding cartons as well as delivery "on-demand". The highly automated folder gluer for fastest job changeovers has just recently been awarded the EDP Award (European Digital Press Association) for the "best folding carton solution".
The new generation of die cutting and embellishing machines (ProCut 76 Foil and KAMA DC 76 ASB) with reduced setup time, new options, more operating comfort and servo drive as well as a "mini-boom" regarding the universally usable ProFold 74 for folding, gluing and dispensing have contributed to the sales increase as well. "We take a good order backlog into the new financial year", reports Tralau.
KAMA 'round the world
The machine manufacturer from Dresden achieves about 40 % of its sales in Western and Eastern Europe, 10 % in the Middle East and Africa and one quarter both on the American continent (26 %) and in Asia (23 %). The strongest individual countries are Germany, China and the USA. "The new sales structure with a mix of large and, in some countries, even small partners has proven its worth", states Tralau. "We still see potential in Germany as well." According to him and the Managing Director Steffen Pieper, their company will continue to grow in the future: "The packaging market entry was successful, our main pillar in job printing is stable and the new products are well received", says Tralau. "We anticipate a slight increase at a high level."
More info: