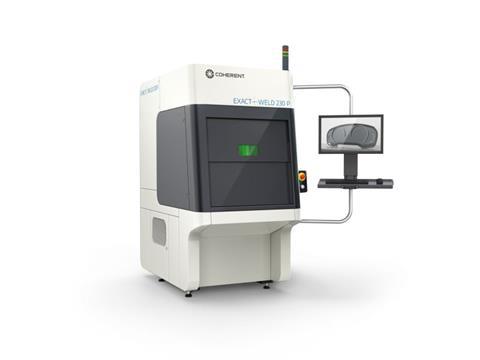 Laser manufacturer Coherent will present a range of sub-systems and systems that service a variety of plastics processing tasks, including welding, cutting, degating and marking. Whatever the application, these tools enable the plastics fabricator to reduce production costs, improve quality and yields, and implement more environmentally friendly processing.
One key product on display will be the Coherent ExactWeld 230 P, a turnkey tool that enables particle-free high-throughput welding of small to medium sized polymer parts. This system combines a diode laser, servo-controlled clamping and responsive software to deliver distortion-free weld quality and rapid cycle times. This makes the ExactWeld 230 P a solution for polymer part joining in automotive displays, instrumentation, sensors and lights, medical equipment, housings and tube connectors, as well as consumer electronics and appliances.
Another Coherent product is the PowerLine E 8 QT, a compact, air-cooled, Class IV sub-system that utilizes an easy-to-integrate 8 W UV laser to enable high-speed marking of polycarbonates, plexiglass, PMMA and other plastics. Plus, it combines modular, high performance scan optics and a sophisticated software interface to deliver significant operational flexibility. This allows straightforward implementation of complex tasks such as 3D marking on curved surfaces, on-the-fly marking, engraving and serialization. The ability to rapidly produce a high-contrast mark on a wide variety of clear and coloured plastics makes the PowerLine E 8 QT an attractive choice for system builders supporting microelectronics, medical products, automotive, packaging and appliance production.
The PowerLine AVIA NX is another Coherent sub-system that utilizes a high power, ultraviolet (UV) laser and precision scan optics to deliver rapid throughput for a variety of applications, including cutting, drilling and marking of plastics.
Coherent also produces a variety of CO2 laser based sub-systems and systems for cutting, slitting, perforating and marking. Once again, these combine laser sources, together with focusing and scanning optics, and powerful software to support various web and non-web production applications in converting, packaging and even wire stripping.
From medical device manufacturing, through converting, automotive, white goods, labeling and microelectronics fabrication, Coherent supports OEMs, systems integrators and end users with laser-based solutions that enable improved results, reduced costs and ease-of-use.
Visit Booth E 30, Hall 4 at K 2019