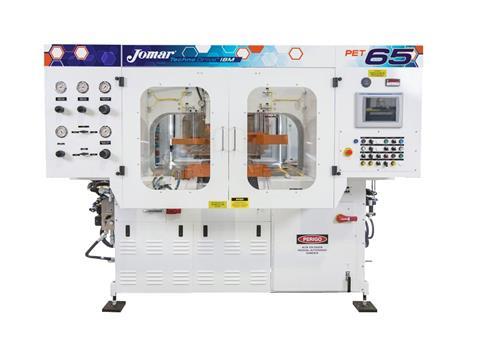 Jomar Corp., a leading global manufacturer of injection blow molding (IBM) machinery for the pharmaceutical, healthcare, and household products industries, will launch the TechnoDrive 65 PET machine at the K 2019 exhibition (Hall 14/A32) which runs Oct. 16-23 in Düsseldorf, Germany.
The newly designed IBM machine is specifically designed to run PET resins but can easily switch back to more typical materials for injection blow molding such as polypropylene (PP) and polyethylene (PE). The TechnoDrive 65 PET machine evolved from Jomar's TechnoDrive 65, a high-speed IBM production machine first unveiled in 2017. It has a dry cycle time of only 1.7 sec, making it one of the fastest injection blow molding machines in the industry. At K 2019, the TechnoDrive 65 PET machine will run 50ml perfume bottles in clear PET on a six-cavity mold.
Using the original TechnoDrive platform as the base, Jomar engineers expanded its capabilities by adding a more robust plastifier motor, high-pressure valves, as well as other improvements such as built-in nozzle heaters to aid in the processing of PET. The result is a machine that is specifically built to process PET but can also revert to more common resins such as polyolefins by only changing the screw and making some minor adjustments.
"The TechnoDrive 65 PET machine further demonstrates the versatility of the Jomar line," said Carlos Castro, Jomar President. "Jomar machines can handle engineering resins and a wide range of PET grades such as PETE or PETG. We're giving our customers the opportunity to bid for a variety of projects from cosmetic jars in PET to packers in HDPE with the same machine."
Some IBM machines require a fourth station to process PET. This "extra" station is used to condition the core rods and ensure they are the correct temperature before enveloping the rod in PET. The Jomar TechnoDrive 65 PET accomplishes this task in the ejection station, thereby merging the third and fourth stations. This gives Jomar the ability to manipulate the core rod temperature and create the optimal processing conditions within a super-fast cycle time.
The TechnoDrive 65 PET can mold a variety of shapes and sizes in PET. One of the limitations, however, is rooted in the nature of injection blow molding. Unlike injection stretch blow machines, an IBM machine does not mechanically extend its core rods, which provides biaxial orientation and allows for extremely thin walls like those found in water or carbonated soft drink (CSD) bottles.
The average wall thickness for a TechnoDrive 65 PET bottle in PET is about one millimetre, so it is more suitable to mold jars, vials, and bottles for the pharmaceutical or cosmetic industries rather than the beverage industry.
All PET projects for the TechnoDrive 65 PET would be accepted as a turnkey project where Jomar would build both the machine and mold. This allows Jomar to tailor the equipment to provide the widest processing window and ensure the project's overall success.
"We're extremely pleased with the TechnoDrive 65 PET machine," said Ron Gabriele, Jomar sales manager. "We've married our experience in material processing with our mechanical knowledge to build Jomar's most versatile machine." At the K show, Jomar will continue to demonstrate its ability to work with different materials in projects that are considered unusual for IBM. Such was the case at NPE 2018 when the company molded polycarbonate lamp covers for LED bulbs.