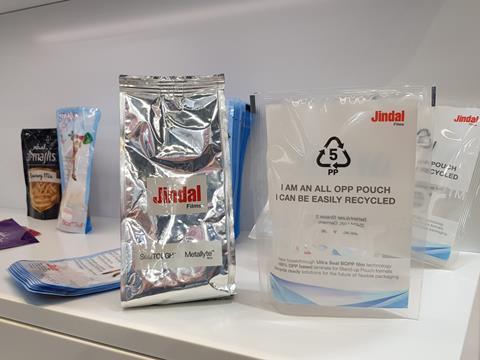 Jindal Films is demonstrating a breakthrough OPP film technology, ULTRASEAL, this week at FachPack. Its unique heat seal performance capabilities are designed to replace blown polyethylene (PE) or cast polypropylene (PP) films used in flexible packaging laminates.
BICOR™ 40 & 50 MB344US films are the first products to benefit from Jindal Films' new ULTRA SEAL technology which consists of a new high clarity, oriented polypropylene (OPP) film range featuring high seal strength, low seal initiation temperature and exceptional hot tack performance. The technology provides robust seal performance in numerous packaging formats, especially pouch and stand-up pouch applications.
This new range of films will meet the increasing need across Europe to provide "design for recycling" solutions which are preferably based on mono-materials. On-going work among several consortia, such as CEFLEX and Ellen MacArthur Foundation (EMF), is moving in the direction of proposing guidelines for companies to "design for recycling". These guidelines would recommend that polyolefin-based laminates should not be combined with paper, PET, nylon or an aluminium foil layer to enable efficient sorting and mechanical recycling. PP-based solutions are one of the preferred recommendations in which ULTRA SEAL can play a significant role in shifting PE film-based laminates to PP-rich laminates.
Jindal Films ULTRASEAL technology will be demonstrated on Wolf Verpackungsmashinen's vertical stand-up pouch packaging machine throughout the duration of FachPack with an all OPP-based laminate (Bicor™ 20MB400 laminated to Bicor™ 50MB344US).
Jindal Films is already working on expanding the ULTRA SEAL technology to include white and barrier versions which would provide more options to the packaging industry to reduce the complexity of 2-ply and 3-ply laminates, while moving multi-material structures towards monomaterial 'PP-rich' structures.
Enhanced thermal solution
At FachPack this week Jindal is additionally displaying an improved version of its innovative Platinum Thermal™ film, 75PT600N.
The single-polymer substrate that simplifies thermal/barcode printing, while offering unique advantages compared to traditional barcode printing technologies, now has a treated top surface that guarantees excellent receptivity to a broad range of print chemistries. This enables users to have a pre-printed customer logo in full colour on their barcode labels.
Platinum ThermalTM can be printed with any standard direct thermal barcode printer and offers high resistance to heat, UV light, water and chemicals. It is heat-stable up to 121°C for any period and demonstrates far superior performance compared to DT-coated substrates. The surface and printed images are not affected by water, nor are they irreversibly darkened by volatile solvents, such as xylene. TTR users can reduce waste, as there are no spent ribbons to dispose of. Additionally, users of DT substrates can extend printer life by eliminating abrasive DT coatings.
"In Europe there is increasing interest in Platinum ThermalTM and we see many potential applications such as frozen food identification, drum labelling, pallet ID and medical labelling. I In circumstances where a standard direct thermal material fails like in extreme temperature changes and humidity, Platinum ThermalTM is the perfect solution", said Frank Smits, commercial development manager at Jindal Films Europe. "The film also offers the potential for significant cost reduction compared to DT substrates and labels printed with full resin or wax/resin TTR".