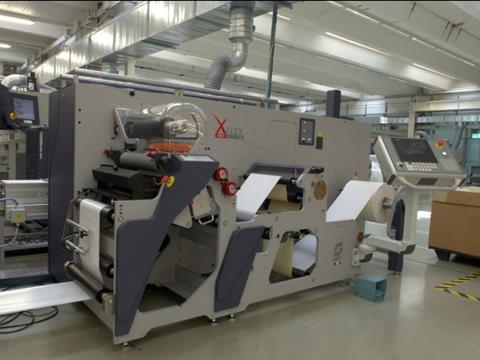 Durst, manufacturer of advanced digital production technologies, will be showing the best of the digital inkjet and conventional worlds, integrated into a single label printing system at Interpack 2017, Düsseldorf, Germany, from 4–10 May 2017.
First exhibited as a prototype at LabelExpo Americas 2016, the Durst Tau 330 / OMET XFlex X6 Hybrid System, now combined with Durst's new Web-To-Print and PrePress Workflow-Label software, will make its European debut on the Durst Booth D73, Hall, 13, Düsseldorf.
The integration of the market leading Tau 330 with near-line pre- and post press finishing solutions in cooperation with OMET, the world's leader in flexographic printing presses, will provide customers with a digital label printing system that is complemented by a wide range of conventional printing and finishing solutions. These include flexo stations for priming and/or varnishing, web cleaning and corona treatment, rotary/semi-rotary die cutting, and slitting.
The Tau 330 / OMET XFlex X6 Hybrid System will be shown with Durst's own production workflow, Durst Workflow-Label, designed specifically for label print production providers. The solution is a modular, expandable pre-press software for order entry, pre-press, RIP, color management, ink costing and production data management. It offers key functionality such as automated knock-out of non-print areas, resulting in lower ink consumption, a high access and self explaining browser-based interface for immediate job costing and easy to use high speed variable data functionality.
Another highlight at the Durst booth will be the new Web-To-Print solution for online design, preview and ordering of all kinds of packaging products like folding carton, labels, and many more. Visitors will have the unique opportunity to see full live demonstrations of the entire digital workflow from online ordering, data processing, digital printing and finishing. The Tau 330 platform is a UV inkjet label press with more than 100 installations world wide. It features a 330 mm (13 in.) print width, up to seven colors (CMYKOViW) and offers printing speeds of up to 48 linear meters/min (169 ft./min) with up to 1260 dpi print resolutions. The press features leading-edge production capacity and print quality, and thanks to its seven color stations achieves close to 90% Pantone color gamut coverage. In cooperation with OMET the Tau 330 series presents unlimited material flexibility for a vast range of applications. Its new near-line primer station provides increased material flexibility and cost saving potential and its flexible post press finishing options complete the near-line label and package printing production needs.
Helmuth Munter, Segment Manager, Durst Label & Package Printing, said: "The reaction to the prototype Tau 330 / OMET system at LabelExpo last year was hugely encouraging, and we have pressed on with our development of this unique technology integration and have completed the system with state of the art Web-To-Print and Workflow software. We're proud to show the entire system now for European visitors for the first time – an innovative end-to-end digital production workflow combining digital printing and conventional finishing with unrivalled capabilities in materials, colors and special effects finishing."
More info: