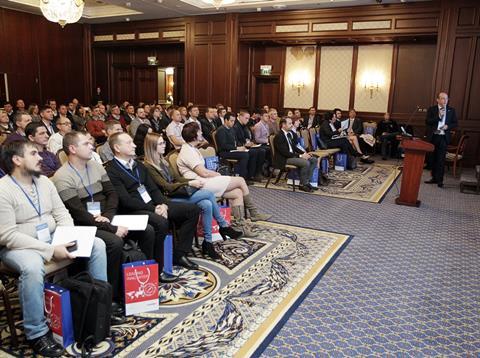 On October 12th, Innovative Solutions for Flexible Packaging Conference 2017 (ISFP 2017) took place in Ukrainian Kyiv. More than 140 professionals attended the event representing manufacturers of flexible packaging materials, labels, and industrial films including IMMER Ukrplastic (IMMER Group), Aventin, Altrade, Blitz-Pack, Greif Flexibles Ukraine, Itak, Marzek Pechatny Dvor, Monopack, Nargus, Sirius Extrusion, Tandem, Teсhnologia, Khask-Flex, Planet Plastiс and many others. The conference program was focused on global packaging market trends and the role of flexible polymer packaging as an alternative packaging material.
International market players including The Dow Chemical, Mitsui Chemicals, BOBST, UBE, Kuraray, UTECO Converting, HP Indigo, Kodak, Macchi, Atlas Converting Equipment, and Jurmet presented their technologies and innovative solutions. The conference was organized by Marko Pack Company in partnership with The Dow Chemical, IMMER Group, and Nestlé. The World of Packaging magazine was the media partner.
In her opening speech, Irina Mirochnik, the President of IMMER Group, underlined the utmost importance of innovations for Ukrainian manufacturers and consumers of flexible packaging. Local manufacturers continue to expand their presence in the European market. By now, they have already become a part of the European production and consumption structure. Thus, current challenges are addressed together with the European partners. An example is CEFLEX, the collaborative project of a European consortium of companies representing the entire value chain of flexible packaging, launched to bring circular economy solutions. Collaborative efforts involving the EU institutions are aimed at identifying and implementing innovational guidelines and practices across the whole production chain. According to Irina, Ukraine continues to develop regulations which are supposed to protect fair manufacturers and local citizens from counterfeiters and low-quality products. The law on waste is also under development. Irina Mirochnik expressed the hope that the new initiatives would take into account European trends. She thanked the conference participants for taking an active part in solving the industry's problems and expressed the hope that the conference would become a place to receive and exchange knowledge and to implement know-hows in real-life solutions.
Marian Gmenta, business development manager (Central and Eastern Europe), Dow Packaging and Specialty Plastics business unit, continued with a warm welcome to the participants. He told about the completion of the merger between The Dow Chemical Company and DuPont Co., underlined the high dynamics of flexible packaging market development and analysed the key direction of development for production companies.
The ISFP 2017 Conference succeeded in covering key trends for all important segments of flexible packaging production. The participants noted that such industry events help their companies get credible and important information from professionals.Dow Europe GmbH stressed the importance of innovations in polymers and adhesives for flexible packaging production. Technologies for manufacturing barrier multilayer materials were presented by Mitsui Chemicals, UBE, Kuraray, Macchi. BOBST focused on the advantages of specialised coatings for making transparent films with high barrier properties for sensitive food applications.
Printing on flexible packaging materials was another hot theme. Kodak detailed its well proven prepress technology delivering outstanding flexo printing quality and cost-efficiency. UTECO Converting presented its range of gravure and digital presses. HP Indigo discussed the economic efficiency based on the implementation of digital presses for flexible packaging, told about the global success of digital presses and announced a new series of metallised inks planned for market launch in the near future.
BOBST presented its range of solutions for manufacturing flexible packaging, from narrow web printing presses and laminators to flexo and gravure. Atlas Converting Equipment demonstrated highly efficient solutions for slitting and rewinding of flexible materials.
According to international analytical agencies, flexible polymer materials continue to grow their market share compared to metal and glass packaging. Cost-efficient and convenient, flexible packaging is going to increase its share further in the coming years. Technologies for manufacturing films and flexible packaging materials will be developing, too. In 2018, Innovative Solutions for Flexible Packaging Conference will present solutions for film extrusion and printing along with technologies for converting and recycling packaging materials.
More info: