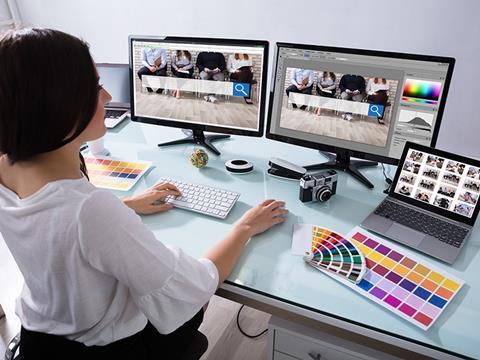 The world of pre-print has changed dramatically in the past decade. Today's solutions can create a seamless workflow between packaging design, manufacturing and printing, as Victoria Hattersley discovered.
When it comes to pre-print software, many may not even know exactly what it is, or where it fits into the overall workflow from packaging design to manufacture. It's not the most glamorous or widely-covered part of the chain – but it's vital and it's evolving all the time.
Pre-print or pre-press technology refers to all the processes that take place after a graphic designer has created a design file up to the printing stage. But the cut-off point between what constitutes pre-print technology and other processes is not quite as clear as it once was. Rather than thinking of it as a single function, we should perhaps be thinking of the journey from product design to printing as a seamless run of interlinking stages, enabling far greater efficiency and higher quality results than ever before.
"Pre-press software has really changed the game in delivering complete automation in taking orders from customers through to plate production and shipping," says Steve Mulcahy, CEO of packaging origination specialists Contact Originators. "When software originally came to market it addressed different steps, speeding up tasks and removing errors, but it was still a disconnected process. Today, repeat work can be uploaded online and processed through our entire business to shipping in a completely automated fashion, driving lead times down, accuracy up and customer satisfaction to an all-time high."
This improved efficiency also has its sustainability advantages. By automating the workflow and thus removing human error, downstream errors can be eradicated, which avoids wasted inks, substrates, energy and time.
"Combine this with sophisticated design tools like ArtPro+ or ArtiosCAD," says Steve Mulcahy, "where we can design in 2D and 3D with hyper-realistic visualisations of the finished product, and you are avoiding having to make samples and mock-ups, which again avoids wasted resources."
Greater flexibility and autonomy
Aside from the clear benefits for service providers such as creative agencies, one real advantage of modern pre-press software is the greater flexibility and autonomy it can give to brand owners. Jen Nathan, Realisation Direction at design and branding agency Pearlfisher, highlights the example of the UK packaging solutions company Itarus Ltd, which has recently introduced an online template to allow users to modify their artwork without the need for third-party intervention.
Say a large haircare brand was launching a new line with several different scents. When using such a system, the brand or their design agency would create an artwork template online. Then, when modifying each separate product in the range, they could simply drag and drop different bits of collateral from the artwork. While it is already fairly common to use such template systems in the design world, as yet it's a relatively untrodden path for those working within the packaging industry, and can open up all kinds of possibilities.
"Previously you had systems like BLUE which allowed clients to control aspects like data and approval, but there wasn't this kind of 'build-it' mentality to give clients control and easy access to materials. It means, essentially, you're almost removing the artworker from the process at this point and giving the control to the brand owner," says Jen Nathan.
"The creative agency can, if needed, put in restrictions so that the design intent stays the same, but the client can modify the wording etc. This is great for promotions – you can add promo flashes, for example – and gives marketers a lot more access to make changes quickly when a campaign needs to be launched. Rather than having to go back to the designer to make a small change, it can be pushed straight down to the line for the printers for the next run. Before, this process might have taken weeks or even months, but if you're digitally printing you can turn it around in a single week if necessary."
While this kind of template system has its limitations – it's certainly not appropriate for more specialist, complex projects – for big roll-outs it can really enable brands to speed up the process from product development to launch. The Itarus approach is not something the majority of us will have heard about, and yet it could revolutionise the way that products are developed and marketed.
A more competitive marketplace
Today's softwares could also, perhaps, provide a greater advantage to SMEs and startups. In fact, according to Jen Nathan, there are ways in which these stand to benefit the most.
"Clients are much more demanding these days and they expect things to happen more quickly. The key thing is to understand what the brief is at the beginning and then look at how you can shorten the timeframes. In this context, it can actually be more of a challenge working with larger clients as they have a set supply chain and cannot always be flexible. They have also often invested in their own factory lines so they are reluctant to change the infrastructure. With a smaller client, you can suggest the right pre-press technology and most appropriate production lines to meet the demands of a specific project and ultimately get things turned around much more quickly for them."
It also creates a much more competitive marketplace, with younger companies able to capitalise on the benefits as much as the more established players. While today's technologies may not be quite an industry 'leveller', "they are certainly enabling forward thinking players to step out and deliver a different and more sophisticated service to customers that will guarantee the death of those companies who remain stuck in the past," says Steve Mulcahy. "Of course, this means that new entrants will enter, leapfrogging from a technology perspective, to deliver the flexibility, quality and service customers are seeking."
Colour management software
Matching the computer-generated colour codes with print colour codes is another vital stage of the pre-print process. Today this task can be particularly challenging; the omnichannel environments brands are now operating in can lead to increasingly complex projects involving a range of substrates from labels and primary packaging to outer cartons, cans and so on. You might, for example, have a situation where artwork is being developed in the US, plates being produced in the UK and various stages of printing also carried out on different continents. If all these are being printed on the same day, how do you ensure the print colour profile is correct?
"You can't take the colour target to each place, in this situation," explains Jen Nathan. "If you're dealing with a custom mix, or printing on a coating surface followed by another substrate with a different, more absorbent finish, the colour is going to look different on both of these. We generally advise to have one colour target as standard, and then pass this on to the remainder."
But today's cloud-based colour management software does at least mean that brand colours on multiple substrates can be managed in a less complex way than hitherto.
"A good example of where colour management software has enabled a step change in the market is our use of Hybrid's Packz software, which enabled us to deliver a world first in fixed colour palette printing for corrugate," says Steve Mulcahy. "This was a real breakthrough for the market, allowing corrugators to achieve what flexible packaging manufacturers have been doing for years; streamlining colours, inks and waste to drive costs down and deliver more control."
The rise of digital printing
As we touched upon above, the increasing sophistication of pre-press software goes hand-in-hand with the rise of digital printing; one exciting aspect of this is the growing possibilities for substrates available to printers. One high-profile example, which we have covered previously in Packaging Europe, is Owens-Illinois' solution for digitally printing on glass; through high build density, it can create bottles to "transform the way custom-made and personalised glass bottles are designed by sculpting glass into multi-dimensional artwork." This was a genuine game-changer for the industry when it was launched last year.
"Of course there is still a tipping point where conventional printing is the most cost-effective option," says Jen Nathan, "but the volume where this occurs is increasing all the time. The cut-off point was once about 5000 units but today it is more like 250,000 units. One day there won't be a tipping point anymore. And technologies such as foiling and debossing are still out of the range of digital capabilities – but how long before someone creates a digitally printed stamp?"
Ongoing innovations in digital print are high-profile and exciting, but we should never lose sight of the importance of the prepress software behind them. The two complement each other – indeed, it could be said you can't have one without the other.
Future drivers
This is just a taste of what today's pre-press technologies can offer the industry. On the horizon, Jen Nathan thinks we can expect to see more opportunities for personalisation. "With software such as that offered by HP, for example, there are going to be so many options. You can create variable data blocks to produce limited edition runs using mail-merged lists. If you combine this with automated software, you could allow customers to design and create their own individualised packaging."
Commercially, this has not quite taken off wide-scale – yet. But it is surely only a matter of time before we see more and more big brands take this kind of approach. "Getting the personal link is what really drives brands at the moment," she adds, "so we can expect to see greater uptake now the technology is there to meet demand.
And there's more: "We can also expect to see more robotics, virtual reality and augmented reality used in supporting printers, and more intuitive technology solutions developing to meet the growing skills gap we also see in the market," adds Mr Mulcahy.
What is the key takeaway from all the above? It seems that, with faster technology and lines between each of the stages increasingly blurred, it may be more helpful to talk about complete workflow solutions rather than focus on pre-press. And all these advances are helping drive those trends we hear so much about – the need for customisation, for flexibility, for waste reduction and an enhanced brand experience.