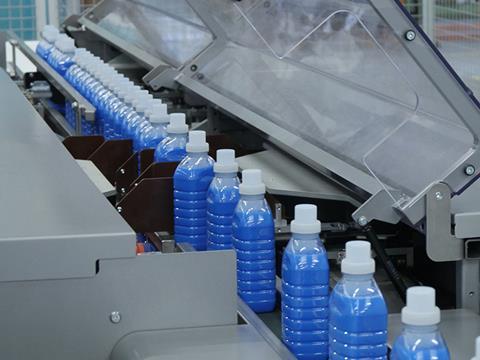 Mr van Leeuwen highlights Alvey's recent innovations which continue the company's tradition to offer tailor-made industrial automation: "We have introduced a dynamic slat divider, which is unique in the market, in that it gives flexibility for current and future products. We also introduced a dynamic centre turner for the same reason."
Another recent innovation is EvoLink, the first fully plug & play conveyor technology solution with decentralised control of every module or peripherals connected to the system.
"The modular system offers maximum flexibility for assembly, modification or extension of conveyor lines. Evolink eliminates difficult programming during the initial installation or at any change of the system configuration. Its integrated wiring saves tedious work of several electricians and apart from the included firmware, it supports different software which lets users connect to external devices. Drives by companies such as SEW and Lenze offer forwarded intelligence."
Saving space and time is also key for Endoline, as Mr Yates explains. He uses a recently developed slim line case erector specifically for eggs as an example:
"This erector fits in line with egg grading and scanning machinery. This new system is a reduction in width on our standard 221 case erector by approximately 40 per cent. It enables customers to buy a fully integrated packing system that utilises space and is completely integrated in terms of controls, offering a fully turnkey system. The slim line case erector is also ideal for customers with space constraints, an issue which is particularly common in the UK as there are a lot of companies who want to automate, but simply don't have the room."
Mr Aury adds that preserving product integrity and offering protection is another key requirement. Gebo Cermex's new shaped bottle infeed system makes sure this happens. At interpack, the company will showcase its CareSelect™ machine, a patented universal and modular shaped-bottle infeed and collating system for robotic or traditional case packers.
"Utilising Rockwell Automation's iTRAK® technology and capable of achieving speeds of up to 400 products per minute depending on package size, shape and weight, the CareSelect system surpasses traditional 'endless screw' collation systems in terms of bottle integrity and protection. It delivers shaped bottles to the packing machine with precision and care in the correct orientation and pitch, turning each bottle 90°. Even unstable shaped products are smoothly and individually handled via independent movers. To eliminate contact between products, flow is managed without accumulation at the infeed and 'friction time' between the bottle and the system - when the bottles come into contact with machine parts - is dramatically reduced by at least 20 times compared to an endless screw infeed system."