Innovation to create value added differentiation is the common thread running through all flexible packaging solutions that Uflex engineers for its global clientele spread across over 140 countries.
It is this innovation by the flexible packaging bellwether that has won it several accolades over the years. Recently INDIASTAR Awards 2017 and SIES SOP STAR Awards 2017 were announced to recognize excellence in packaging innovation and development. A total of six products received the awards.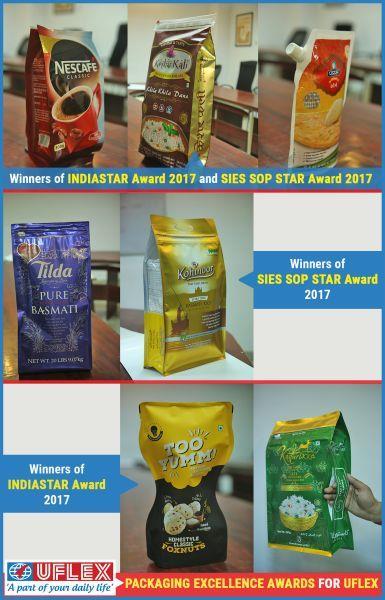 While INDIASTAR AWARDS are conferred by the Indian Institute of Packaging (IIP), SIES SCHOOL OF PACKAGING STAR AWARDS as the name suggests are presented by the renowned institution SIES that is credited for churning out some of the finest packaging professionals in the country.
Expressing delight over the latest award announcements, Mr. Ashok Chaturvedi, Chairman & Managing Director, Uflex Limited said, "These awards have a very special connotation associated with them. Declared by renowned institutions that are revered as the final authority on innovation, design and development of packaging in our country these award winning products have created an altogether different league for themselves as a testament towards their aesthetical and functional excellence. Uflex is humbled at this occasion and is inspired to develop yet enhanced flexible packaging solutions in future."
More info: