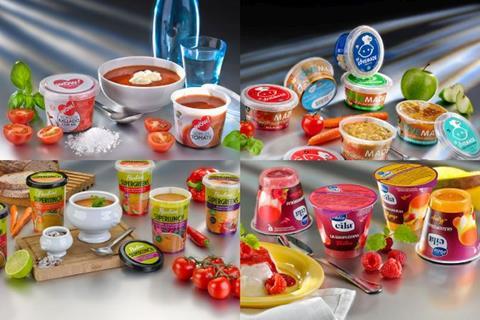 The In-Mould Labelling (IML) capabilities of RPC Superfos have been endorsed after three labels used for its high-quality packaging solutions won prizes at the 2017 IMDA Awards.
At the ceremony for the inaugural awards, run by the In-Mould Decorating Association of the United States, labels for RPC Superfos packs picked up one Gold and two Silver awards.
The Gold Award for Best Product Family went to the SuperLock® pot used by Orkla Foods for its soups and baby foods. An attractive re-closable solution, it combines In-Mould Labelling with oxygen barrier protection to give the products a long shelf-life, even under ambient temperatures. The pot is produced by RPC Superfos Besançon in France, while the label supplier is Turkey-based Korsini-SAF.
Also featuring a label from Korsini-SAF is the SuperLock® container used for soups from Cool Vega, which won the Silver Award for Best Injection Moulded Package. Produced by RPC Superfos Pamplona in Spain, the solution features an injection- and IML autoclave-resistant oxygen barrier label, as well as an injected twist lock system lid decorated with a standard IML label.
The other solution to be honoured was the bespoke dessert pot for Finish Valio from RPC Superfos Mullsjö in Sweden, which picked up the Silver Award for Best Part Design. The In-Mould Label, from Belgian company Verstraete, which is hygienic and resistant to moisture and extreme temperature fluctuations, conveys the premium quality of the panna cotta dessert.
"Finding the right IML suppliers and creating outstanding packaging solutions with them for the benefit of our customers is rewarding in itself," comments Pierre Maillot, Divisional Purchasing Manager at RPC Superfos. "However, it is even more enjoyable to receive common public recognition for our efforts at the 2017 IMDA Awards Competition.
"We always strive to work with the best, and value our great business relationship with both Verstraete and Korsini ‒ we are so proud of all three awards."
More info: