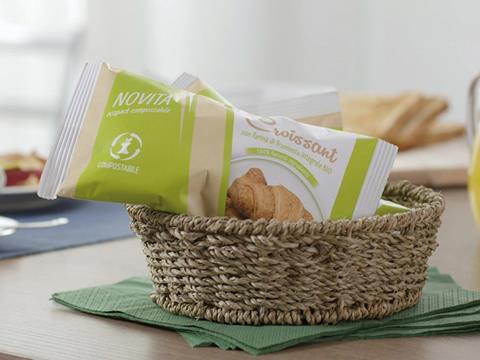 We offer consultancy on new generation and sustainable materials that are aimed at reducing or deleting plastic materials and facilitating the switch to sustainable materials. In addition, OpenLab evaluates most emerging sustainable and breakthrough materials before they are even commercially available, in order to know how to run them on the IMA ILAPAK machines.
So, if you are thinking about introducing a new biodegradable, performance-enhanced or ultra-thin film, be sure to take advantage of OpenLab testing capabilities.
Sharing knowledge can undoubtedly help to develop common strategies aimed at sustainability. IMA Ilapak, thanks to OpenLab projects, has strengthened its cooperation and synergy with supply chain companies.
The result of this synergy has been a new 100% compostable and high-barrier packaging. In fact, the five companies involved, IMA FLX hub, Novamont, Saes Coated Films, Sacchital, and TicinoPlast have developed a revolutionary compostable food packaging with high oxygen and water vapour barrier properties.
Deriving from renewable raw materials and suitable for replacing non-recyclable multilayer packaging or packaging contaminated with food residues, the new solution closes the loop. It comes from the earth and, through industrial composting, returns to nourish the earth again.
The project has been launched on the market through the publication of the itscompostable.com website, whose purpose is to promote the use of compostable materials, show how they should be disposed of, collect development requests from companies in the sector and create new synergies.
IMA Ilapak's scientific and empirical approach, unique in the market, combined with a deep knowledge of technology, materials, and customer product are the trump cards to achieve sustainable goals.
This content was sponsored by IMA Ilapak.