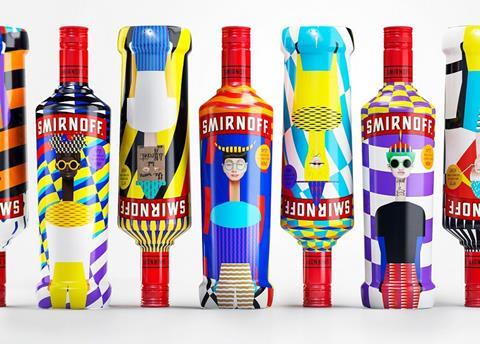 HP SmartStream D4D digital print three month-long pilot opens November 6th for up to 500 creatives
HP Inc. has collaborated with the award-winning designers, the Yarza Twins, Silas Amos, and Smirnoff to launch the beta programme of HP SmartStream Designer for Designers (D4D). HP SmartStream D4D is a suite of "light" design solutions that enables designers to create up to twenty variations on any design, and effectively take more creative control of the process.
At the HP SmartStream D4D launch party on November 2nd at the Black Swan Studios in Bermondsey, London, designers witnessed how the Yarza Twins used the software to create stunning individualised designs for Smirnoff, in response to the beta programme brief "Every one is the same. Every one is different." During the three month pilot starting on November 6th, up to 500 designers can register to request to join the beta programme, and 15 super users will be selected to provide feedback.
"A key benefit of digital print is the ability to produce limitless variations of a theme. As designers it was thrilling for us to experiment with HP SmartStream D4D to push the creative boundaries," said Eva Yarza. "Once we conceptualised our approach for the Smirnoff designs, D4D brought it to life."
Marta Yarza added, "These are really exciting times for designers. HP SmartStream D4D opens up new opportunities for us to show our creative potential to clients and puts us at the cutting edge of design innovation."
Every one the same. Every one different.
Inspired by the classic Smirnoff No. 21 brand, the Yarza Twins designed 21 characters along with 21 hats and 21 bodies. These design elements were 'shuffled' using HP SmartStream D4D so that each design outcome is totally unique. The HP Mosaic component of the software was also used to take one single design that celebrates the famous eyebrow silhouette of the Smirnoff label and adapt it by zooming, rotating, switching colours to create endless unique, eye catching outcomes. These unique designs were then used across a wide range of HP printing technologies to produce items like bottle shrink sleeves, bottle labels, corrugated boxes, point of sale, posters, chair wrappings, wallpaper, t-shirts and, all of which were on display at the launch party. This creative output is for the HP SmartStream D4D beta launch only, and not for commercial purposes.
Closing the gap between concept and creation
HP SmartStream D4D is a simplified version of HP SmartStream Designer for Adobe Illustrator CC2018, which is the full scale commercial software already used by owners of HP digital presses. "Digital print has the ability to make packaging and print more agile and limitless, but until now there has been a gap between concept and creation," said Nancy Janes, HP's global head of brand innovation. "With HP SmartStream D4D, designers can for the first time play with the powerful software used to create some of the most memorable and impactful packaging campaigns from global brands. We want to call on those designers who want to be a part of the future of digitally printed designs to sign up for this beta programme."
At the launch party, invitees heard from other designers who have used HP SmartStream D4D on their projects, including Silas Amos, Supermundane, Emily Forgot and David Shillinglaw. Attendees also received demonstrations of the software and saw videos of the Yarza Twins talking through the different stages of the Smirnoff project.
Register for HP SmartStream D4D
From November 6th for a three month period, more designers will be able to register to be part of the beta programme by visiting www.hp.com/go/D4DBeta