The company says that the new HP Indigo 200K Digital Press showcases a step-up of 30% in speed, and 45% in productivity.
HP Indigo has unveiled the new HP Indigo 200K Digital Press, designed to "enable converters to boost the competitive edge of their digital flexible packaging business." The new press is based on "the only field-proven digital technology for digital flexible packaging" and on a successful install base of over 300 HP Indigo 25K digital presses, series 4.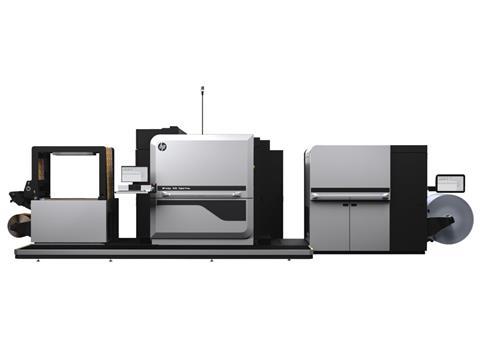 The new series 5 HP Indigo 200K digital press is designed to increase the productivity of high-margin, sustainable short runs, delivered in days with no minimum order size required.
According to the company, it can print up to 56 m/min (183 ft/min) and sets out to increase the productivity of high-margin, sustainable short runs of digital flexible packaging, to be delivered in "days, not weeks."
"The HP Indigo 200K is a mid-web digital press specially designed for converters addressing the needs of brands in flexible packaging, but it also serves the growing requirements of the label and shrink sleeve industries for higher productivity and wider format," said Noam Zilbershtain, VP & General manager of HP Indigo & Scitex. "Flexible Packaging is a growing market, and HP Indigo customers are growing much faster than the market, according to Smithers Pira's report 'The Future of Global Flexible Packaging to 2026', I have no doubt that the HP Indigo 200K digital press will open the door for more flexo converters who want to join the success, and reign in industry 4.0."
The HP Indigo 200K digital press reportedly showcases a step-up of 30% in speed and 45% in productivity compared to the HP Indigo 25K, when in Enhanced Productivity Mode. It features gravure-matching colour quality based on the HP Indigo Liquid ElectroPhotography (LEP) and One-Shot Color technologies.
We spoke to Eli Mahal, head of L&P Marketing at HP Indigo, to get his thoughts on what challenges this new press addresses, as well as trends and developments in the flexible packaging printing industry.
ES: According to statistics, the digital flexible packaging market is in the early stages, with less than 1% of the packages printed digitally – why do you think that is?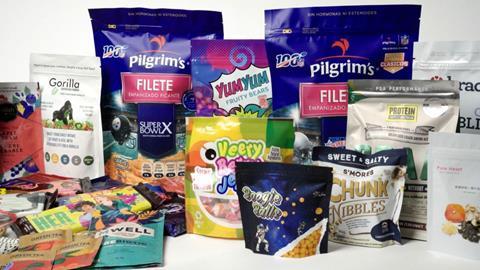 EM: Flexible packaging is a 100 billion dollar industry, primarily serving the food market, and is predominantly based on large players that focus on production volume using highly productive CI flexo presses that run at 300, 500 or 500 metres per minute. Compared to that, when we introduced our first HP Indigo presses in this environment, it looked like an interesting toy. There wasn't such a great fit between what we offered and what the market needed, as our presses are less wide and running slower. The products packed in flexible packaging are often at a relatively low price, unlike labels, which also cover pharmaceuticals and personal care.
But over time, customers' need for personalization changed the landscape. People are not generally willing to just have one type of milk and two types of shampoo, they want 30 types of milk and 100 types of shampoos. Since the number of products is going up much faster than the number of people on earth, print runs are getting shorter and shorter. The landscape has changed in the last decade or so, even in the world of volume production.
In addition, many of our customers have discovered an untapped market – small to medium-sized brands that are not so well served by the traditional players not geared up so well for short runs. These small brands still represent a relatively small volume of the market, but the share is growing due to a need for fast time to market, on demand and with a low or no minimum order.
ES: What are the main advantages of having a digital press for flexible packaging?
EM: Companies want low or no minimum orders, delivery in days not weeks. They don't want to be charged on plates, they want the freedom to order six, seven or eight SKUs and make easy and fast changes. Producing short runs with high productivity presses, is not so efficient, and the waste produced during the process is huge, as these presses are geared up for volume production. Digital presses offer more flexibility, which is a big advantage, and allow reducing waste by up to 90%.
ES: What challenges had to be overcome to develop the HP Indigo 200K Digital Press and boost performance to 30% in speed, and 45% in productivity?
EM: When you want to run a press 30% faster, you need to change nearly every aspect of it. The writing head needs to be able to run faster, and the motors that run the press need to run faster. We have a water-based inline primer unit that we coat the media with before printing, which also needs to run faster. We need to dry the ink before we transfer it to the media, and this needs to be done faster.
In addition, we improved what we already have. Since we have experience with already running hundreds of presses, we are familiar with issues around food safety, high CYMK coverage, high white coverage, very thin and sensitive media, printing in reverse and not just surface printing like in other packaging applications.
ES: How do you see the digital print market develop – for flexible packaging and packaging in general?
EM: Two factors are driving the adoption of digital print in labels and packaging:
Number one is that typical production patterns often have the shape of a camel hump. There are many jobs but small in volume. The camel hump represents the constant movement of jobs, moving from large volume to small volumes, shorter runs, more campaigns and more small brands. This is one aspect that is causing a shift from conventional to digital printing, whether it's in the area of labels, flexible packaging or folding carton.
The other aspect is that print jobs are moving towards digital, but digital also needs to step up on productivity levels. We and our competitors in other segments are trying to develop products that are more economical and more productive to push what we call the breakeven point.
There are many attributes of how to allocate a job on a flexo or on digital press. It can be time to market, it can be variable data, or it can be complexity of the job. Some converters will say, anything over two kilometers gets printed on flexo, anything below goes to digital. When you have a more productive press, you can change two kilometers to three kilometers, which means that more jobs can be printed economically on the digital press. In the flexible packaging market, when you move the breakeven from two kilometres to three kilometers, you increase the amount of volume you can compete on, and this offers great value for our customers. Those who have both digital and flexo presse can now move more jobs from flexo to digital and work more efficiently.