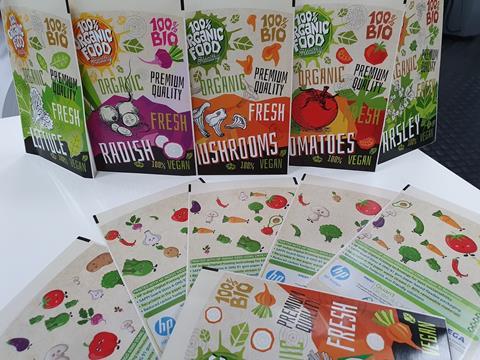 The limits of what is possible with digital printing are constantly growing. Victoria Hattersley spoke to Yair Gellis, head of HP Indigo global flexible packaging, about the industry's continued move towards digitalization and the advantages this can bring.
VH: HP Indigo recently collaborated with Sappi to print its new paper-based solution from Sappi that renders additional special coatings or laminations superfluous. How does this provide a more sustainable paper-based packaging solution while utilizing the strengths of digital printing?
YG: HP Indigo's flexible printing solutions include collaborating with media partners to validate substrates that can help reduce the impact of packaging on the environment, while taking advantage of high-quality, on-demand HP Indigo digital printing with lower inventory and elimination of analog production waste. HP Indigo is continuously testing new and innovative materials that can deliver more sustainable packaging for brands and their end customers.
Indeed, we are seeing increasing demand by brands for printing flexible packaging applications on paper-based structures for applications such as confectionery goods, powders, dry foods, snacks, and more.
VH: For those of our readers who may be unfamiliar with the process, what can digital print offer brand owners that conventional printing methods can't, and are there any drawbacks still to be overcome? What are the main practical challenges of shifting to digital.
YG: HP Indigo printing eliminates the need for plates or cylinders and offers the freedom to print smaller quantities thanks to on-demand, just-in-time print. As a result, HP Indigo digital presses can help lower the environmental impact of print, deliver fast time to market, and streamline supply chains.
Digital printing therefore enables brands the freedom to create and easily print a large variation of artwork for a wide array of product SKUs. This is a huge advantage especially for craft brands offering a variety of products in small batches or limited editions. As a result, digital converters, serving craft brands and localization, are able to offer packaging in premium quality print and format with no minimum orders to their customers.
In addition, the HP indigo digital printing solution has a suite of software solutions that deliver unique capabilities including industry-leading, sophisticated variable data printing designs as well as brand protection capabilities including invisible inks, microtext, serialization and track and trace.
VH: How has ongoing innovation in pre-print software helped facilitate the transition to digital printing? Are there any particularly customer-friendly / innovative solutions you could give as examples.
YG: HP SmartStream Designer is a simple, affordable variable data tool optimized for HP Indigo digital presses. It includes exclusive plug-ins like HP Collage and HP Mosaic for creation of virtually unlimited design variations. Converters grow business and offer their brand customers unique high-impact products with these tools.
HP's web-to-pack portfolio is an example of software that is making it easy for digital startups to launch production.
VH: We've often heard it said that there needs to be a 'tipping point' whereby conventional printing is no longer as cost-effective as digital printing for the latter to become the norm. Have we reached that point now, do you think?
YG: Some HP Indigo customers are certainly running long runs on HP Indigo digital presses, in cases such as the need to deliver long runs in fast turnaround, enabling streamlining of overall production and untying supply chain challenges
VH: What do you foresee as being the next phase of digital transformation?
YG: HP Indigo is constantly working on developing future solutions, such as the upcoming HP Indigo V12 platform, that will deliver labels and packaging at breakthrough thanks to a new architecture and speed of 120 m/min with inline six-color printing. The press will print as fast as analog with greater production agility. This will make it possible to deliver significantly higher production volume in HP Indigo's well-known digital quality.