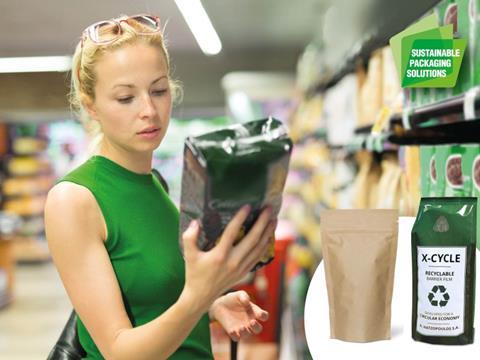 In our latest Innovation Spotlight, we take a close-up look at ROVEMA's comprehensive solutions for packaging coffee and how the company's solutions can eliminate the need for unnecessary packaging without having to make compromises on quality.
Coffee is a very sensitive product that must be processed gently during cultivation, harvesting and further treatment. Packaging can play a major role in making sure the coffee reaches the consumer in optimum condition.
Product protection is key. The coffee is filled into 100 percent gas-tight bags to achieve a shelf life of up to two years. So that no atmospheric exchange can take place, the coffee is filled with a protective gassing, a mixture of nitrogen and carbon dioxide. If too much oxygen were to reach the coffee, the oils/fats contained in the coffee could become rancid. In addition, the bags must have good barrier properties, to avoid the product greasing through. As coffee is an emotional premium product, high quality visual presentation is also important at the point of sale.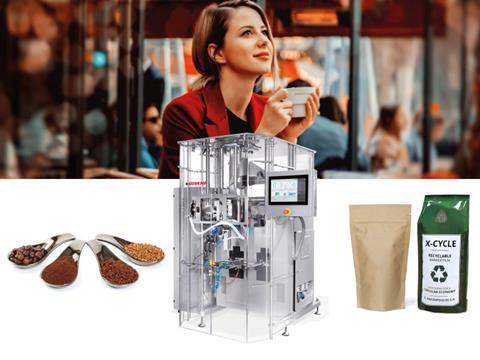 When it comes to packaging coffee, the needs of large coffee producers and smaller, local roasting plants differ. While the large manufacturers generally rely on dedicated dosing systems for each machine when configuring their systems, smaller manufacturers tend to prefer flexible systems that can process both types of coffee on one machine. ROVEMA has observed an increasing demand for innovative combinable dosing systems that can process both, coffee beans and ground coffee, and thus facilitate the entry into automated packaging processes.
All different coffee types are packed using Form Fill and Seal machines at ROVEMA, and can be configured and assembled for the individual application purpose, and covers the filling of the product all the way to the outer packaging. ROVEMA delivers complete packaging lines including the final packaging or outer packaging as a turnkey solution.
Sustainable packaging materials
A major trend is a growing consumer interest in recyclable packaging materials. Since the basic requirements for packaging materials for coffee are already very high – from barrier function to attractive appearance – coffee manufacturers face challenges in integrating these new materials into the packaging process.
Until now, the majority of all coffee packaging has been made of a composite material of PET aluminium and PE. This composite material offers optimum barrier properties and excellent machinability.
Demand for sustainable packaging materials leads to new challenges for the packaging process. The aim is to combine consumer demands with the suitability and availability of sustainable materials from an economic point of view. Even though coffee is a rather high-priced premium product, consumers are unlikely to accept price increases due to packaging.
Packaging composites made of PP/PE or PE/PE with embedded EVOH* or SiOx barrier layers are currently gaining in popularity due to their recyclability. These composites in some cases consist of up to seven individual layers, but they all come from the same chemical group of polyolefins and therefore are considered recyclable in Europe. Packaging materials made of plastic compounds are somewhat more difficult to process than common aluminium composites. ROVEMA GmbH has already successfully tested such packaging materials on their machines.
The company has investigated a range of alternative packaging materials for coffee and has discovered some promising alternatives. Not all of them offer quite the same flexibility in bag design as standard products, but the sustainable options offer excellent product protection. Options include coffee beans in polypropylene (PP) with an EVOH oxygen barrier, ground coffee safely packed with particularly thin PP packaging material, coffee powder in PE mono material and coffee powder packed in polyolefin composite with sealing medium made of 85% renewable raw materials.
Efficiently packing coffee beans in block bottom bags with button valve
Process safety
With a product as sensitive as coffee, it is essential in the packaging process that all systems interlock and the entire system ensures high reliability and process safety.
With ROVEMA packaging solutions all components are matched and the entire construction is thoroughly tested and optimized in advance. ROVEMA has numerous inhouse developments, but also customer-owned components and systems can be integrated into the turnkey line on request.
Download ROVEMA's white paper on sustainably and safely packaging coffee.
This content was sponsored by ROVEMA.