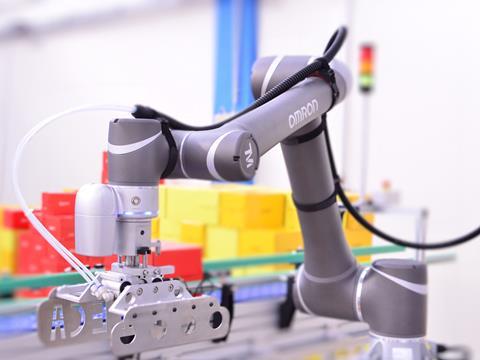 Whether we're talking about traditional industrial robots, cobots, mobile robots or something else besides, automation will have a central role to play in factories both today and in the future. Victoria Hattersley highlights some of the biggest challenges related to robotics in the packaging industry, and asks representatives from some of the world's leading producers how they are addressing these.
The packaging challenges facing manufacturers and brand owners today call for complex solutions. Increasingly, manufacturing processes in FMCG are driven by consumer demands for aspects like greater customization, faster turnaround times and more unusual packages, not to mention their growing social consciousness which means – quite rightly – they are putting pressure on the industry to offer more sustainable and ethical solutions.
Take food, for example: "Nowadays the production aspects linked to food are as important as the product itself," says Paolo Cavallanti, of Omron Industrial Automation Europe. "The final consumer is increasingly questioning the supply chain upstream of the food he buys, the resources consumed by the industry that produced it, the working conditions and the safety conditions of the operator. We therefore have to always consider the consumer in production considerations: ever more attentive to issues such as sustainability, safety, wellbeing and quality at the right cost."
Robotics technology is evolving to meet these demands with ever-more sophisticated applications. When they were first introduced, industrial robots were mainly employed for more basic tasks like lifting heavy loads; now they can be used for a huge range of more complicated tasks for primary, secondary or tertiary packaging, from de-panning to de-nesting, pick-and-place and so on. We also know that the installation of robotic systems can allow a manufacturer to quickly and efficiently scale up production.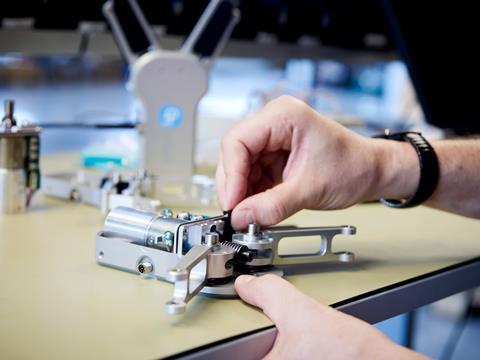 Adaptability: 'The main obstacle to automation'
Brand owners and packaging manufacturers require automated systems with ever-greater flexibility and adaptability to meet the above consumer demands for smaller batch sizes and personalization, and robotics producers are continuously evolving their offering accordingly.
"When it comes to the packaging and product handling sectors, the main obstacle to automation has to do with adaptability, as not all machines are able to pick up products of unique size, shape or weight," says Richard Mawson, sales manager of OnRobot. "Therefore, a warehouse picking and packaging a diverse range of goods needs a versatile solution. Today's robotic arms can be fitted with end effectors which add a high degree of flexibility to the application. These intelligent tools can detect the product type, adjusting their grip to its size in order to be more effective."
Many of today's solutions are highly customizable, which means they are capable of handling a wide range of complex applications. Take OnRobot's recently released VGC10 – a highly configurable electric vacuum gripper which is "ideal for confined environments and smaller robot arms, while still offering a payload of 15kg," continues Richard Mawson. "Unlike other vacuum grippers, our VGC10 doesn't require a compressor or air supply, making the set-up infinitely simpler and quicker. It also features easily interchangeable suction cup options, enabling swift addition or replacement to fit specific application needs."
But we are also seeing increasing deployment not of traditional industrial robots (although these certainly still have their place) but of cobots. This is of course a topic we have addressed in various ways over the past years, but the pace of change is such that it's necessary to return to it at regular intervals.
"Markets like food and cosmetics are most suitable for cobots," says Paolo Cavallanti. "For packaging applications our cobots can inspect and sort products, before putting them into cases. Customers can quickly adapt production lines to new products or seasonal models." This ability to adapt at speed is essential in today's fast-paced consumer-driven marketplace.
We are also seeing more flexible switching between modes, with different kinds of robotic solutions working together simultaneously to enhance productivity. "More manufacturers are exploring mobile manipulator solutions to combine the benefits of collaborative robots with autonomous mobile robotics, so they can deploy the most agile solution into their factories," adds Mr Cavallanti.
And when it comes to smaller batch sizes, "We currently see no restrictions on the extended use of robots," says Peter Pühringer, General Manager Robotics Germany at Stäubli. "On the contrary – with the number of product variants continually increasing at the same time that batch sizes are decreasing, the optimal solution lies in flexible automation."
Efficiency and simplicity: The 'game-changers'
Of course, making life simpler and more efficient for the customers – the packaging manufacturers and brand owners – is also key for our interviewees.
Robotics producer Cama's lines are designed so that each robot is an integral part of the production line. "The software is unique for the machine so no black box is required," says Alessandro Rocca, the company's sales engineering director. "Other companies may have to integrate robots manufactured by another company into their lines, which in the case of a breakdown means they have to call in the other brand to fix the problem which costs both time and money. Having the robots integrated directly into the production line is a far simpler solution."
And again, cobots will also have an important role to play when it comes to simplifying processes. "Unlike their industrial cousins, cobots are designed with seamless integration in mind," says Mark Gray, UK sales manager at Universal Robots. "Engineered as an out-of-the-box solution, an untrained operator can unpack, mount and program a cobot in less than an hour. From a business view, this means that companies can maximize their throughput, accelerate their time-to-market and, crucially, achieve ROI in no time at all."
Many companies in the field of robotics – Cama and Omron being just two examples – are also pushing towards greater use of vision-driven robots in production lines. Industrial robots use machine vision algorithms to locate and arrange parts and verify operations.
"We are particularly enthusiastic about this for the food sector, where you need the pick and place capabilities to cope with thousands of products a minute – some of which are quite delicate – so it's always challenging and this is where vision systems can really make a difference," says Mr Rocca.
Omron is also fully embracing vision technology, with its Integrated Vision System designed for industrial grade pattern recognition, object positioning and feature identification. Users of this system can set up vision tasks for immediate deployment without going through various complex steps of integrating external cameras or lighting equipment.
"Our Integrated Vision System can be used a plug and play system," says Mr Cavallanti. "It takes a long time to program industrial robots, but with IVS it's much easier to program and deploy cobotic applications in assembly lines now."
Plug and play has been described as a 'game-changer' in terms of simplification (and also cost-effectiveness). "Automating a task becomes much simpler and more cost effective when you can simply order the required end-of-arm-tool 'off the shelf' rather than have to get something custom-made," says Mark Gray.
In the future, vision systems are likely to become ever-sharper and more high-definition, facilitating greater integration between robots and the human eye.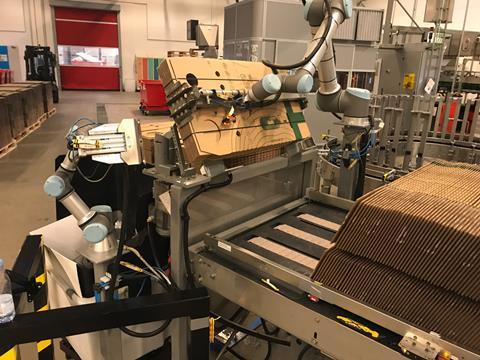 Humans and machines: 'A cultural shift'
This last point brings us on to a specific challenge faced by manufacturers when they are looking to implement robots into their production lines: how do they ensure seamless integration with their human counterparts? This is a necessary question to address: cobots in particular will change the way factories work. With no need for physical cages and designed for flexible, low- or high-volume production, they will increasingly be working alongside – not just in addition to – humans. Does this present safety issues?
Meanwhile, there may also be concerns among the existing workforce that with a higher degree of automation, fewer workers will be needed – or that there will be a greater emphasis on more skilled workers such as software engineers and programmers, at the expense of manual workers.
To address this challenge, therefore, can be as much of a cultural as a technological transformation within a company. "We are assisting today in companies a change of paradigm," adds Mr Cavallanti. "Who is delivering what? The cobots or the human? Is the worker assisting the cobot or the cobot assisting the worker? This is what we have to overcome, more than the technical aspect."
OnRobot's Richard Mawson agrees with this viewpoint: "It's a common fear among the workforce that an increased robotic adoption may cause them to lose their jobs. A shift in mindset and a better understanding of how robots can, in fact, support and upskill workers would certainly help drive a wider uptake of robots in the packaging industry, as well as in other spaces."
In part, this also speaks to the fifth industrial revolution we have all been talking so much about – a stronger collaboration between man and machine, with the emphasis on the human factor. "Here is how collaborative robotics takes on a decisive role," adds Mr Cavallanti, "becoming that paradigm shift that is able to support companies in coping with the scenario changes taking place and – at the same time – to change the perception of the technological and cultural approach that is necessary to adopt at the threshold of the fifth industrial revolution."
Then there are the inevitable safety considerations that come from humans and machines working more closely together. Does it put humans at risk? Will it lead to more accidents? Not so, according to Mark Gray. "When it comes to safety, as their name suggests, cobots are designed to work in close proximity to their human counterparts. In fact, we are witnessing a growing trend of manufacturers integrating cobots into their operations to improve staff safety."
He gives the example of Carlsberg's Danish facility. Previously, employees at its Fredericia-based factory had been suffering from repetitive strain from carrying packaging cartons from the pallet to the magazine, or sustained cuts while removing the packaging cable. In order to work towards its zero-accident initiative, the company has therefore, he tells us, invested in two UR cobots.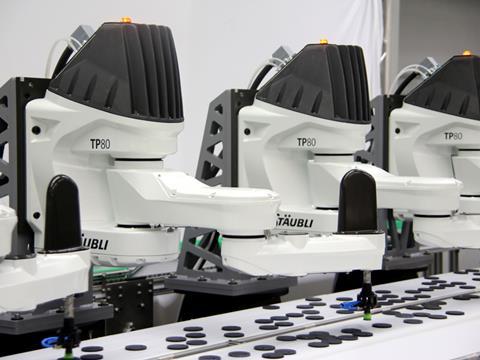 The cost factor: 'The alternative is being left behind'
But any such large investment requires considerable thought – particularly for those SMEs who lack the spare capital of the global players. For some of these, there may still be some reluctance to 'bite the bullet' from this perspective, quite apart from the above-mentioned cultural and safety considerations.
"For sure, robotics cost more than conventional factory machinery," says Alessandro Rocca. "Some medium-sized customers are sometimes reluctant to invest because they fear it is costly, unknown, needs a lot of maintenance and knowledge. But the total cost of ownership is the same in the end – and the alternative is being left behind."
Robotics could also bring costs savings when it comes to product protection – and hence waste reduction. Universal Robots' smaller cobots, for example, are used to complete high-precision tasks such as packaging eggs, without damaging them – always a risk when the task is completed by hand.
Stäubli robots are also available for demanding applications. "The HE [Humid Environment] and NSF H1 [food-grade oil] variants of these robots are also able to manage the packaging of unwrapped foodstuffs," says Peter Pühringer. "For example, they are used in the primary packaging of fish fingers. Other demanding applications can be found in the fields of life science, consumer goods and electronics. Our ESD robots are the go-to machines for packaging sensitive electronic products."
Even so, there's no doubt that cost will still be a factor for many SMEs. This is why some companies are offering practical solutions to enable them to implement automation gradually. "We recently introduced a leasing programme for cobots," says Mark Gray. "Offering greater cost control and flexibility, the initiative allows users to benefit from automation without a capital investment.
"As previously mentioned, many considered robots to be exclusive to large corporations, mainly due to the huge price tag and space requirements. Cobots have revolutionized this thinking. Designed to be economic in space and finance, cobots have opened the door for manufacturers of all sizes to integrate into their offering."
Data management: 'Merging together robotics and AI'
The ever-more tangled webs of overlapping production methodologies – while they are highly enabling – in turn throw up another issue that needs to be addressed. They all create huge amounts of data which, if interpreted and managed correctly, can be a positive asset, resulting in increased efficiency and production improvements. But how can this be harnessed?
AI could be the key to this. Increasingly we are seeing more sophisticated machine learning algorithms being installed on packaging lines. These can improve themselves, or the equipment they are operating – 'learning' information directly from the data without having to rely on a pre-set program and without human intervention. Clearly, the more data that can be produced, the more the machine's performance can be refined. For the packaging industry, this involves gathering and processing information from thousands of remote sensors to reduce downtime, speed up changeover times, reduce product defects or damage, and speed up production.
"The scenario is open," says Paolo Cavallanti. ""At present we can create a metaphysical structure combining robotics, IoT and Artificial Intelligence to efficiently acquire data from a production site and allow robots to work together with humans in perfect harmony. I think that merging together robotics and AI with big data stores can make the big differentiation. Big data is what is changing the manufacturing industry. In the near future, having those data available and released for more efficient production will be the challenge."
Last but not least: The sustainability question
It's perhaps not the first consideration that leaps to mind when you think about robotics innovation, but as with every sector, robotics producers must form part of the global conversation around climate change. It's unavoidable.
To give just one example of this, let's consider two topics we have touched upon briefly already: data management and machine learning. One way these could help contribute to a circular economy is to enable more efficient recycling processes. Through machine learning, robots used in recycling plants could learn to identify and separate materials automatically, reducing the risk of contamination and enabling a purer, more efficient recycling stream. Companies such as Tomra Sorting Recycling and ZenRobotics are just two of those in Europe looking to tie machine learning into automated sorting technologies.
Certainly, sustainability is something our interviewees factor in when talking about the different market needs their solutions can meet. "I am looking to use robotics in manufacturing to bring advantages in terms of energy efficiency," says Paolo Cavallanti. "By reducing human errors you are not only increasing quality and lowering costs but also reducing waste from paper and plastics to anything that can be delivered as a package."
They can also help manufacturers to reduce their overall energy consumption. "Our cobots are engineered to work with minimal supervision," says Universal Robots' Mark Gray. "This means they can continue working overnight, without requiring heat or lighting, when the human workforce has gone home. This ensures that companies can maximize their productivity while reducing their emissions."
The above are just some of the complex challenges robotics can allow the packaging sector to address. No doubt there are more, and still more will arise. The key – as all our interviewees are certainly aware – is constant adaptation to meet the changing demands of the industry.