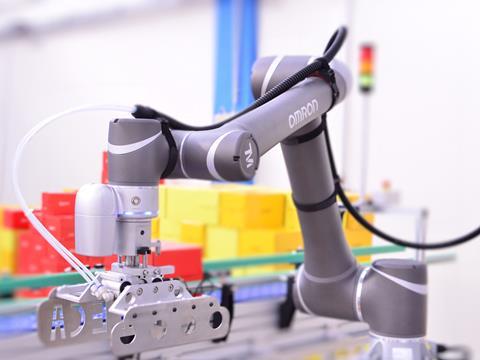 The cost factor: 'The alternative is being left behind'
But any such large investment requires considerable thought – particularly for those SMEs who lack the spare capital of the global players. For some of these, there may still be some reluctance to 'bite the bullet' from this perspective, quite apart from the above-mentioned cultural and safety considerations.
"For sure, robotics cost more than conventional factory machinery," says Alessandro Rocca. "Some medium-sized customers are sometimes reluctant to invest because they fear it is costly, unknown, needs a lot of maintenance and knowledge. But the total cost of ownership is the same in the end – and the alternative is being left behind."
Robotics could also bring costs savings when it comes to product protection – and hence waste reduction. Universal Robots' smaller cobots, for example, are used to complete high-precision tasks such as packaging eggs, without damaging them – always a risk when the task is completed by hand.
Stäubli robots are also available for demanding applications. "The HE [Humid Environment] and NSF H1 [food-grade oil] variants of these robots are also able to manage the packaging of unwrapped foodstuffs," says Peter Pühringer. "For example, they are used in the primary packaging of fish fingers. Other demanding applications can be found in the fields of life science, consumer goods and electronics. Our ESD robots are the go-to machines for packaging sensitive electronic products."
Even so, there's no doubt that cost will still be a factor for many SMEs. This is why some companies are offering practical solutions to enable them to implement automation gradually. "We recently introduced a leasing programme for cobots," says Mark Gray. "Offering greater cost control and flexibility, the initiative allows users to benefit from automation without a capital investment.
"As previously mentioned, many considered robots to be exclusive to large corporations, mainly due to the huge price tag and space requirements. Cobots have revolutionized this thinking. Designed to be economic in space and finance, cobots have opened the door for manufacturers of all sizes to integrate into their offering."
Data management: 'Merging together robotics and AI'
The ever-more tangled webs of overlapping production methodologies – while they are highly enabling – in turn throw up another issue that needs to be addressed. They all create huge amounts of data which, if interpreted and managed correctly, can be a positive asset, resulting in increased efficiency and production improvements. But how can this be harnessed?
AI could be the key to this. Increasingly we are seeing more sophisticated machine learning algorithms being installed on packaging lines. These can improve themselves, or the equipment they are operating – 'learning' information directly from the data without having to rely on a pre-set program and without human intervention. Clearly, the more data that can be produced, the more the machine's performance can be refined. For the packaging industry, this involves gathering and processing information from thousands of remote sensors to reduce downtime, speed up changeover times, reduce product defects or damage, and speed up production.
"The scenario is open," says Paolo Cavallanti. ""At present we can create a metaphysical structure combining robotics, IoT and Artificial Intelligence to efficiently acquire data from a production site and allow robots to work together with humans in perfect harmony. I think that merging together robotics and AI with big data stores can make the big differentiation. Big data is what is changing the manufacturing industry. In the near future, having those data available and released for more efficient production will be the challenge."
Last but not least: The sustainability question
It's perhaps not the first consideration that leaps to mind when you think about robotics innovation, but as with every sector, robotics producers must form part of the global conversation around climate change. It's unavoidable.
To give just one example of this, let's consider two topics we have touched upon briefly already: data management and machine learning. One way these could help contribute to a circular economy is to enable more efficient recycling processes. Through machine learning, robots used in recycling plants could learn to identify and separate materials automatically, reducing the risk of contamination and enabling a purer, more efficient recycling stream. Companies such as Tomra Sorting Recycling and ZenRobotics are just two of those in Europe looking to tie machine learning into automated sorting technologies.
Certainly, sustainability is something our interviewees factor in when talking about the different market needs their solutions can meet. "I am looking to use robotics in manufacturing to bring advantages in terms of energy efficiency," says Paolo Cavallanti. "By reducing human errors you are not only increasing quality and lowering costs but also reducing waste from paper and plastics to anything that can be delivered as a package."
They can also help manufacturers to reduce their overall energy consumption. "Our cobots are engineered to work with minimal supervision," says Universal Robots' Mark Gray. "This means they can continue working overnight, without requiring heat or lighting, when the human workforce has gone home. This ensures that companies can maximize their productivity while reducing their emissions."
The above are just some of the complex challenges robotics can allow the packaging sector to address. No doubt there are more, and still more will arise. The key – as all our interviewees are certainly aware – is constant adaptation to meet the changing demands of the industry.