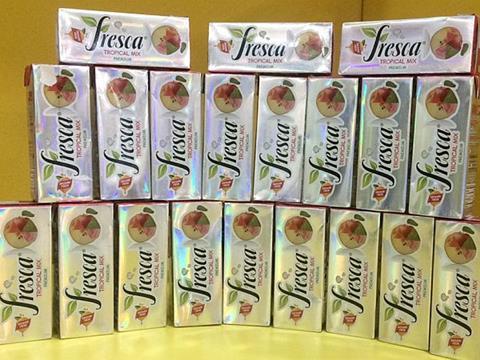 Indian juice brand Fresca has officially launched India's first holographic pack in the 200ml Tropical Mix and Guava Premium Juice categories. The aseptic packs are set to attract attention on retail shelves.
Akhil Gupta, Managing Director, Fresca, commented on the launch, "We believe this is the ideal time to launch when people are always on a look out for something new and appealing for gifting. With the help of Uflex's brand Asepto we are able to revitalize the consumer experience in the sparkling holographic packs of Fresca's 200ml Tropical Mix Premium and Guava Premium; the packaging not only serves as marketing differentiator at the retail standpoint but also takes care of the key component for safe journey of products from production to consumption. The smoothness and superior taste is very pleasing, as it has higher percentage of fruit pulp giving a great drinking experience to consumers."
Adding more, Gupta stated, "In India, aseptic beverage packaging has had very limited aesthetic possibilities with not much uniqueness or exciting visual hook on the shelf to offer to the consumers. However, the unique striking effects of holographic innovation by Uflex's brand Asepto has encouraged brand like us to create a fresher approach to consumers, the holography in aseptic packs is a boon to the industry. On the first day of market launch we have been able to bag massive orders for the upcoming festive season."
Ashwani K Sharma, President & CEO , Uflex Ltd added on the launch "Asepto Spark is a global innovation of Holographic packs offered to the industry and already created excitement in the global market, we have received tremendous response from international markets like Middle East ,Europe, Asia, Africa and China."