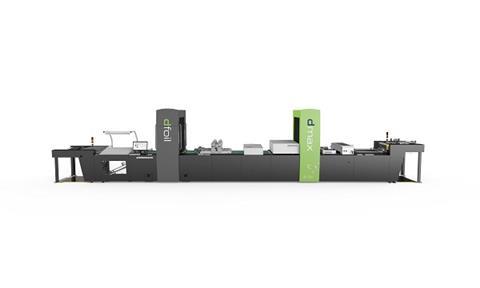 Heidelberger Druckmaschinen AG (Heidelberg), a leading supplier of equipment, services and consumables for the global printing industry, and Steinemann Technology AG, a global supplier of digital and conventional print finishing systems based in St. Gallen, Switzerland, have signed a marketing cooperation agreement.
Under the agreement, Heidelberg is to take over lead management for Steinemann's entire portfolio of print finishing systems in a number of markets, including Germany, France, India, Japan and the USA. Steinemann's modular range of print finishing systems currently encompasses the dmax 76 and dmax 106, two professional digital machines for spot and relief varnishing on sheet sizes up to B1, as well as the colibri 76 and colibri 108, two conventional, high-speed machines for the full flood varnishing of sheet sizes up to 108 x 145 cm.
Steinemann recently introduced the dfoil, an innovative, high-output and flexible module for digital foil stamping that combines with the dmax systems. For Heidelberg, the coating systems from Steinemann are the perfect complement to its range of offset and digital printing systems, such as the new Heidelberg Primefire 106, the first industrial digital press for sheet size B1.
"Cooperating with Steinemann strengthens our position along our customers' value chain by combining coatings with equipment solutions for both digital and conventional printing as well as finishing," says Dr. Ulrich Hermann, Head of Heidelberg Digital Business & Services. "Our customers get high flexibility as well as options for promptly meeting market demands for premium print finishing and personalisation."
Ludwig Allgoewer, Head of Print Enhancement at Steinemann Technology AG: "The partnership with Heidelberg gives Steinemann broader access to key markets and a stronger presence in them. Transferring lead management in key markets to Heidelberg underlines our company's technology leadership in the field of digital coating and foil stamping."
More info: